Apple's WWDC Keynote Was All About China
This year's WWDC keynote was jam-packed with new products from the technology giant. But the company's biggest new development wasn't in hardware or software.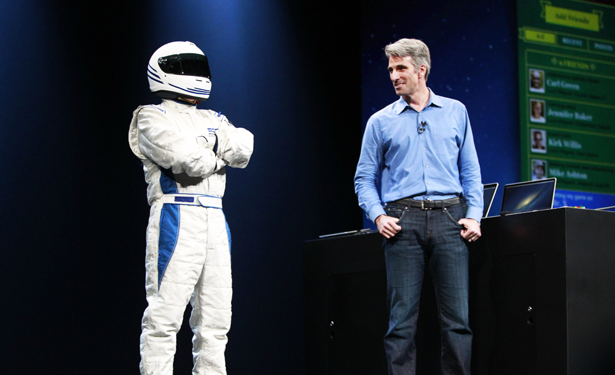 Apple may have just had the most eventful keynote in recent memory. Among the changes: a major hardware facelift to the Macbook Pro; the addition of useful new features in Mac OS X Mountain Lion, such as desktop notifications and the ability to share anything from any application with a click; a new version of iOS, Apple's mobile operating system; and big new plans for Siri, including iPad and automobile integration.
All these new goodies will give tech journalists a lot of fodder to chew on for the next few weeks. But something else intriguing happened today: The company repeatedly went out of its way to mention China. In the midst of unveiling Mountain Lion, Senior VP for Mac OS X Craig Federighi stopped to give Chinese-language features their very own chapter in the demo. He showed off a revamped character input method, and a new Chinese dictionary. In a major move, Safari now has built-in support for Baidu, mainland China's biggest search engine, and you can share content to video-hosting sites Tudou and Youku -- services that many Americans associate with pirated movies and TV shows but to the average Chinese are merely the local flavor of YouTube.
Apple says it's bringing many of the same Chinese-specific features to iOS. Company officials made sure to point out that Siri will support search in Taiwanese Mandarin (which differs from the kind of Mandarin spoken on mainland China), as well as Cantonese, which is spoken in southern China and Hong Kong.
"You can now do local search even in China," said Scott Forstall, senior VP for iOS, in a way that suggested the country was somehow unique in its complexity (in fact, Siri already supports one of the world's most difficult languages, Japanese).
Near the end of the address, Apple executives hit the China theme a third time, throwing up a final slide summarizing all the Chinese-language features specific to iOS.
The amount of focus on China this time around is remarkable -- or extraordinary, as Steve Jobs might say. Apple and China have appeared frequently in the news together this year, with performer-storyteller Mike Daisey causing a furor over his stylized portrayal of labor practices at Foxconn, the contractor that assembles iPads and iPhones as well as products for other international tech firms. Then there was the near-farcical trademark dispute between Apple and a Chinese company called Proview, in which Proview petitioned legal authorities to ban sales of the iPad over claims that Apple was using the device's name illegally.
Despite these legal entanglements, Apple products are still in heavy demand in China, with some people offering up vital organs and even their virginity to get their hands on a new iPhone. It's no shock that Apple sees China as a market waiting to be conquered; CEO Tim Cook made headlines in March when he dropped in on Foxconn's manufacturing plant in Zhengzhou. (Steve Jobs never made any such overtures.) What is surprising is to see Apple court the country so openly in a keynote. To the best of my knowledge, Apple hasn't lavished anywhere near as much individualized attention on other states as it has on China this time.
Back in the United States, products that are or aren't mentioned as part of a keynote are almost always analyzed after the fact as an indication of where Apple's headed next. iOS is integrated with Twitter and Facebook! Does that mean Apple is deliberately snubbing Google+? And that's totally fair. As befits a keynote, the products are supposed to take center stage. But this time, where Apple goes next won't be a device, or even a revolutionary app. It's a place.