Computer algorithms can now discern the meaning behind humans' facial expressions.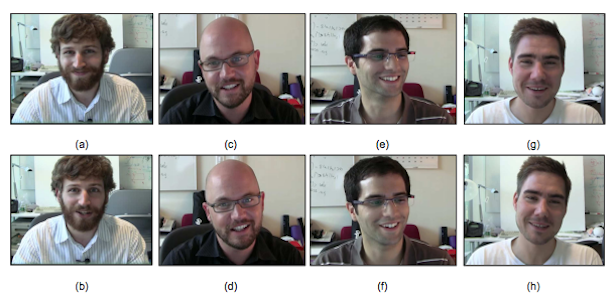 The four people above are taking part in a clinical experiment. In the screenshots shown here, each guy is smiling once out of delight (reacting to a picture of an adorable baby) and once out of frustration: made to complete an online form that keeps malfunctioning. Awww vs. argh: same general expression, totally different emotion. 
So which is which? Who's smiling out of joy, who out of annoyance? 
If you're not totally sure, you're not alone. We humans need context and narrative to be able to discern the meanings of our fellow humans' facial expressions. We're sensitive to subtleties. That's one thing that makes us different from machines. 
Except ... when it's not. In a paper just published in IEEE Transactions on Affective Computing, Mohammed Hoque, Daniel McDuff, and Rosalind Picard share a system that allows computers to become as sensitive as -- and, in fact, even more sensitive than -- humans. 
The team, members of MIT's Affective Computing Group, combined two insights to arrive at their algorithm. First, genuine smiles tend to build slowly and linger, while frustrated smiles tend to appear and disappear quickly. Second, the musculature of fake smiles tends to differ from that of genuine ones: hence "thin" smiles, "stiff" smiles, etc.