Twitter Tech Elite Seriously Overstimated Facebook's Closing Price
Many tech twitterers thought the company's first day on the market would go a lot better than it did.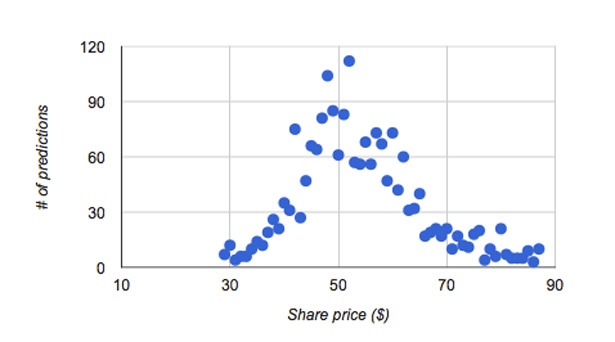 With the market closing up shop and Facebook sitting at $38 thanks to the deep pockets of the IPO's underwriters, so it's worth revisiting what people were saying about this IPO yesterday. Luckily, developer James Proud created a little app -- facebookipodayclosingprice.com -- at venture capitalist Chris Sacca's request to track predictions about the company's first day of trading. This got tweeted out to the Twitter tech elite and about 2,261 people entered their predictions. Mashable wrote it up like this: "Facebook IPO: Did Twitter just give us closing price?"
In short: NO.
What did they think Facebook would close at? $54.
What did Facebook close at? Exactly $38.
And I note that $38 should have an asterisk.
Only 26 of the 2,261 predictors offered $38 as the company's shares closing price. And as you can see in the chart above, the distribution of predictions were concentrated around $50 with a substantial number of people predicting a very high closing price. Put it this way: almost as many people predicted a close of $80 (21) as predicted a close of $38.