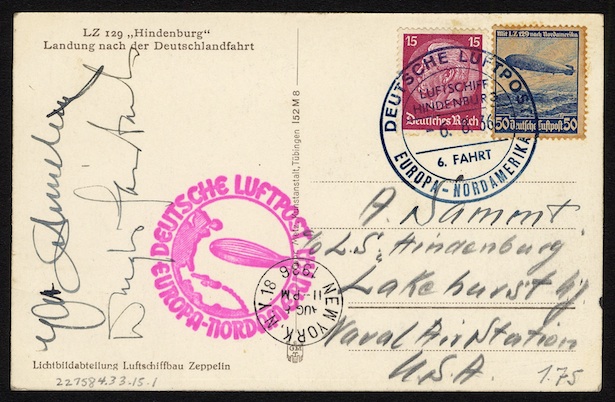 This Sunday, May 6, marks the 75th anniversary of the disaster of the Hindenburg, among other things a pioneer of transatlantic airmail.
A political target today, postal services were at their zenith in the early 20th century, when they stood for integrity, duty, punctuality -- and of course, secure jobs. Mail volume dropped during the Depression, but mass layoffs were avoided through normal retirement and attrition. The Postmaster-General of the time, James A. Farley, proved not only a master politician but also one of the greatest patrons of muralists since the Italian Renaissance. The main New York post office, renamed for him, was completed in the year of the Titanic, 1912. The RMS in that vessel's full name ("RMS Titanic") stood proudly for Royal Mail Ship, and both shipping lines and airlines relied in part on mail revenue.
An exhibition at the National Postal Museum in Washington, across the street from Union Station, has a small but moving exhibit of objects related to the Titanic and the Hindenburg. Below, a few samples from that collection:
One last curiosity: The Hindenburg also marked a high point of elegant smoking, to the extent of including an air-pressurized lounge where patrons could light up their Balkan Sobranies with flameless electric devices. Scary as the idea sounds, it had nothing to do with the catastrophe. I write about it here.
We want to hear what you think about this article. Submit a letter to the editor or write to letters@theatlantic.com.
Edward Tenner
is a historian of technology and culture, and an affiliate of the Center for Arts and Cultural Policy at Princeton's Woodrow Wilson School. He was a founding adviser of Smithsonian's Lemelson Center.