The Tao of Shutterstock: What Makes a Stock Photo a Stock Photo?
And how do photographers know that I'll need a picture of the sun streaming through clouds?
And how do photographers know that I'll need a picture of the sun streaming through clouds?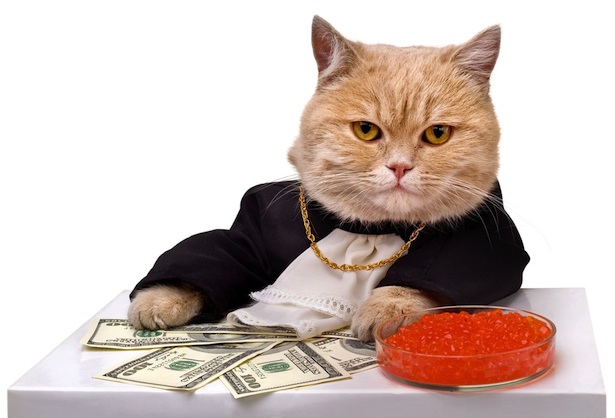 There are not many occasions when one will find oneself seeking an image of a cat in smart clothes with money and red caviar on a white background. But there may well be one occasion when one will find oneself seeking an image of a cat in smart clothes with money and red caviar on a white background. This being the Internet, actually, there will probably be two or three.
For such occasions, when they arise, your best bet is to turn directly to an image service like Shutterstock. The site, as the documentation for its upcoming IPO makes clear, is a web community in the manner of a Facebook or a Twitter or a Pinterest, with its value relying almost entirely on the enthusiasms of its contributors. But it's a community, of course, with an explicitly commercial purpose: Shutterstock pioneered the subscription approach to stock photo sales, allowing customers to download images in bulk rather than à la carte. Shutterstock is e-commerce with a twist, and its success depends on its contributors' ability to predict, and then provide, products that its subscribers will want to buy. The site is pretty much the Demand Media of imagery -- and its revenues, for both the company and its community, depend on volume.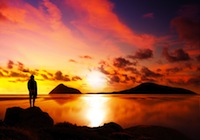 Shutterstock launched in 2003 and has grown steadily since then, bolstered by the explosion of web publishing. On the Internet, there is always text in need of decoration -- and the site now offers a library of 19 million images to do that decorating. (Per
Alexa's somewhat reliable demographic stats
, Shutterstock's site visitors are disproportionately women -- women who live in the U.S., who browse the site from work, who don't have children, and who do have Master's degrees. Which is to say, probably, they're members of the media.) As its own kind of inside-out media organization, Shutterstock leverages the same kind of market-prediction strategy that Demand does ... but it does that without Demand's infamous algorithms. Instead, says
Scott Braut
, Shutterstock's VP of content, it provides its contributors with tools like keyword trends and popular searches so they "can find out what people are looking for and when."
The site also hosts multiple forums intended to guide people through the photo submission process -- and that process, its contributors have told me, is exceptionally user-friendly compared to other microstock photo sites.
It's also, however, fairly exclusive: Shutterstock has a team of reviewers charged with ensuring editorial consistency and quality -- and in 2011, Braut says, only 20 percent of applicants who applied to become Shutterstock contributors were approved. And less than 60 percent of all the images uploaded by those approved contributors were ultimately put up on the site. For each download their photos receive, photographers will get about $0.25 U.S. -- and more if they're oft-downloaded contributors and/or the purchaser has a high-level subscription.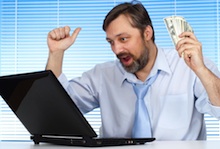 In some cases, Braut says, Shutterstock's content team will do direct outreach to the site's top videographers, photographers, and illustrators "to help fill specific content needs." For the most part, though, Shutterstock contributors figure out for themselves what subscribers are looking for. There's very little "Hey, Orda, can you dress up a cat and pose it with some Benjamins and Beluga? Because that would be awesome." If there's a need for an image of that particular scene -- or of, say, a cheeseburger, or a German shepherd laying in the grass with a laptop, or a shadowed man gazing contemplatively at the sea during a colorful sunset -- it's pretty much up to the photographers to identify that need. And, then, to fill it.
And fill it they do. To browse Shutterstock -- as I often do, since we sometimes use their images here at The Atlantic -- is to go on a weird and often wacky and occasionally totally wondrous journey through the visual zeitgeist. The site's contributors have covered almost everything, topic-wise -- to the extent that, even with my occasionally zany image searches, it's extremely rare to have a query come up blank. (I did a search for "zeitgeist," just to see, and was rewarded with three packed pages' worth of images: clocks, scantily clad ladies carrying clocks, cartooned gentlemen carrying clocks, youths flashing peace signs, stylized clinking glasses, more cartoons, more clocks.)
The images Shutterstock serves up may not always be classy or fully clothed or even 100-percent relevant ... but there they are nonetheless, courtesy of photographers from around the world. It's all very of, by, and for the Internet: The site's images focus heavily on sit-comic poses, colorful cartoons, plates of food, ponderous abstractions, and cats. And while the selection of images a query returns can occasionally be fairly painful in their posery -- cf. the horrific/hilarious Awkward Stock Photos -- they can also be awkward in a sadder sense: as vehicles of a kind of preemptive nostalgia, insisting stubbornly on a world that exists only in the minds of the microstockers. (See: Women Laughing Alone With Salad.)
For all that, though, there's a communal power to the stock image. Some guy (maybe in Russia), his identity masked by a coy username (igor_zh) and his impact amplified by his canny use of keywords, figured I would eventually come to search for poetic pictures of sun-pierced clouds that would in their way represent "hope." And he was right. Stock photographers specialize not just in imagery, but in sentiment prediction: They anticipate people's needs before they become needs in the first place.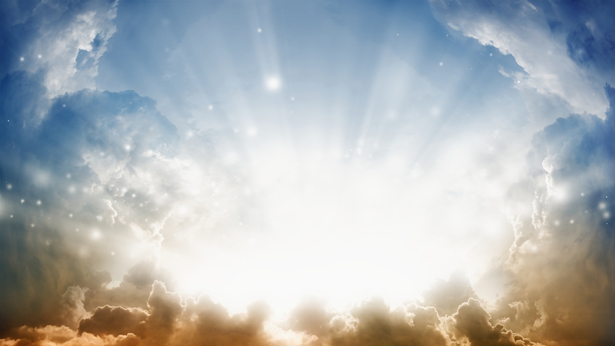 ***
One of those photographers is Ben Goode. A graphic designer based near Adelaide, Australia, Goode moonlights as a stock photo shooter. He's become one of the most popular contributors on Shutterstock. Goode has sold over 150,000 images during his seven years as a site member, he told me, netting him over $70,000 in U.S. currency. Goode describes the stock image creation process as a combination of strategy and serendipity -- with a healthy dose of market anticipation thrown in. "Over the years I've learned the type of image that sells well on Shutterstock and definitely try to create images to that end," he says. Now, when he goes out on a shoot, he'll take both shots for his landscape prints website and images that may have broader relevance. "Stock-friendly" shots, he calls them.
To these latter, Goode will add a little Photoshop magic -- a crucial step, he notes, and one that involves much more than simply filtering images à la Instagram. Goode edits each image "on its own merit," he says, which sometimes involves slight adjustments or selective color changes, and sometimes involves 20 or even 30 layers added to the original image until the thing is fairly bursting with color and exuberance.
As Shutterstock grows as a service, and as the market for stock images both broadens and saturates, photo-stocking is becoming its own specialized skill -- a cottage industry built on Adobe. "To just take an image and bump up the saturation does not cut it in stock these days," Goode says. "It takes a lot more to give them some real punch and appeal with designers."
So what he strives for, Goode says, is "maximum stock impact."
Which leads to a question: What, exactly, is "stock impact"? One of the more wacky/wondrous elements of stock photos is the manner in which, as a genre, they've developed a unifying editorial sensibility. To see a stock image is, Potter Stewart-style, to know you're seeing a stock image. And while stock images' stockiness may be in part due to the common visual tropes that give them their easy, cheesy impact -- prettiness, preciousness, pose-iness -- there's part of it that's more ephemeral, too. Though they have little else in common, shots of a German Shepherd typing on a laptop and a man contemplating the sunset can both be, in their special way, stocky.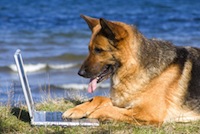 One thing that unites stock images, says Jason Winter, a Virginia-based teacher, web designer, and part-time Shutterstocker, is the "unique perspective" presented in the composition of the photos themselves. When shooting a stock photo, Winter told me, you want to think not just about capturing an image, but also about creating a product that will visually pop, particularly against the white backdrop of a web page. By "twisting a photo just a bit and making it appear three-dimensional," he says -- by, for example, ensuring that your shot contains a well-defined foreground and background -- you can create an image that will embody stock's other-worldly appeal.
But there's also the cultural sensibility of the stock photo: the cycle -- virtuous or vicious -- that occurs when people start thinking of "stock" as its own aesthetic category. Life as told through the stock image is beautified and sanitized and occasionally dominated by camisole-clad ladies holding things. It is posed; it is weird; it is fraught. But it is also unapologetic, because it knows that it has its own particular style -- one that, meme-like, is incredibly easy to replicate. Dress up your cat, point, click, edit, upload, and wait for the Internet to reward you for your efforts. As Shutterstocker Emily Goodwin tells me, it's not necessarily the traditionally "pretty" stuff that sells well on the site. No, it's the utilitarian content -- the images that capture the banalities and absurdities of every day life -- that prove popular. Stock begets stock, until suddenly the Internet is able to answer when you request a picture of a dog in a top hat.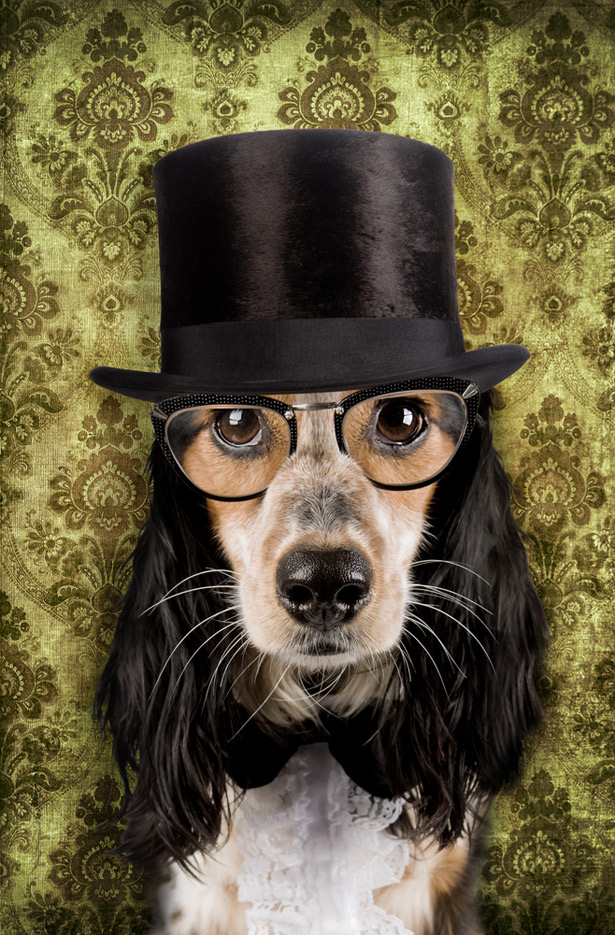 Images: Ben Goode, Nikolai Tsvetkov, igor_zh, Douglas Freer, and Lobke Peers -- all from Shutterstock.