The Pathbreaking Flight of SpaceX's Dragon Capsule, by the Numbers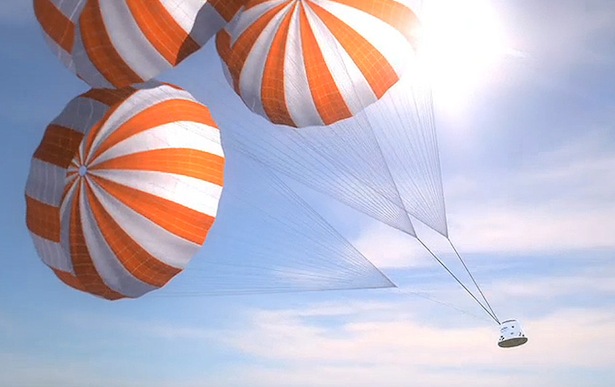 Last week, SpaceX's Dragon capsule became the first commercial vehicle to complete a mission to the International Space Station. This morning, the Dragon began its journey back to earth, guided by colorful parachutes in its re-entry into the atmosphere. At 11:42 am EDT, Dragon made a "precise, graceful splashdown" into the waters of the Pacific off the Southern California coast.
Now, a pre-positioned flotilla of ships will recover the Dragon and return it to Los Angeles, where it will be unloaded of its cargo -- some of the goods to be delivered to NASA, the rest of them sent to SpaceX's central command center in nearby Hawthorne, CA.
So what did the Dragon actually accomplish, besides a successful mission and a new path forward for commercial spaceflight? And how did it accomplish it? Below are numbers behind the Dragon and its journey. Some are notable because of how huge they are; many more, however, are striking in their smallness. There's a good chance the capsule that made history today isn't much bigger than the office you're sitting in right now.
Height of the Dragon capsule: 20 feet
Diameter of the Dragon capsule: 12.1 feet
Sidewall angle of the Dragon capsule: 15 degrees
Number of years SpaceX spent constructing the Dragon: 7.5
Amount of time the Dragon spent attached to the International Space Station: 5 days, 16 hours and 5 minutes
Number of thrusters built into the dragon capsule: 18
Number of those thrusters that could fail without compromising the Dragon's ability to operate: 2
Length of the International Space Station's robotic arm that helped berth the Dragon: 32 feet
Weight of the supplies -- including experiments, food, clothing, and technology -- the Dragon delivered to the Space Station: 1,014 pounds
Weight of the supplies -- including hardware and cargo no longer needed aboard the station -- the Dragon returned from the Space Station: 1,367 pounds
Number of parachutes used to guide the Dragon back into the earth's atmosphere: 3
Diameter of each of those parachutes: 116 feet
Acceleration of the Dragon as it re-entered the earth's atmosphere: 3.5 Gs
Amount of time the Dragon spent in space: 9 days
Number of Space Station re-supply trips the Dragon has planned for the future: 12
Value of the NASA contract triggered by SpaceX's successful mission to the Space Station: $1.6 billion
Minimum weight of the total supplies that SpaceX must deliver to the International Space Station under said contract: 44,000 pounds
And, for the more visually inclined, here's video of the capsule: