The Obama Effect: There Were 1.6 Million Tweets About Gay Marriage Yesterday
At exactly 3:01 yesterday afternoon, I looked over at TweetDeck and saw this:
Well, good for Barack Obama. This is what leadership is about RT @emilybazelon: He did it!

-- James Fallows (@JamesFallows) May 9, 2012
For the next half hour or so, I was glued to Twitter, watching this moment explode into 140-character bites. There was celebration, analysis, humor, and, of course, discussion. If you, like me, experienced the President's announcement with an eye on your Twitter feed (and, perhaps, hands on your keyboard), you were in good company. Twitter has now released two charts capturing the frenzy of Twitter activity yesterday in response to the news.
The first shows the quantity of tweets referencing gay marriage since Obama's inauguration. As you can see, yesterday the volume spiked, topping out around 1.6 million tweets, breaking the previous record from the night New York legalized gay marriage (which was, it should be noted, late at night on a Friday). (Click on the images to enlarge.)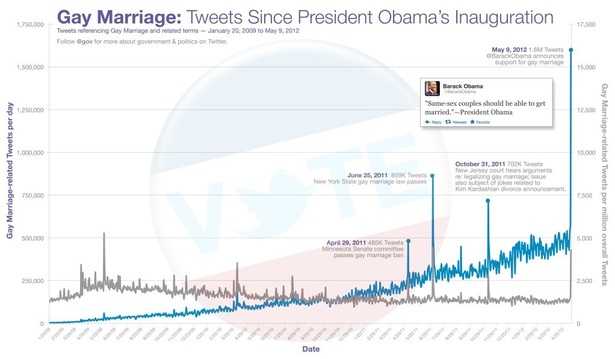 The second shows the rate of gay-marriage tweets per minute yesterday, which peaked at more than 7,000, just four minutes after the president's own tweet.