The Internet at the Dawn of Facebook
Back in 2004, the "World Wide Web" was dominated by Microsoft, AOL, and Jeeves.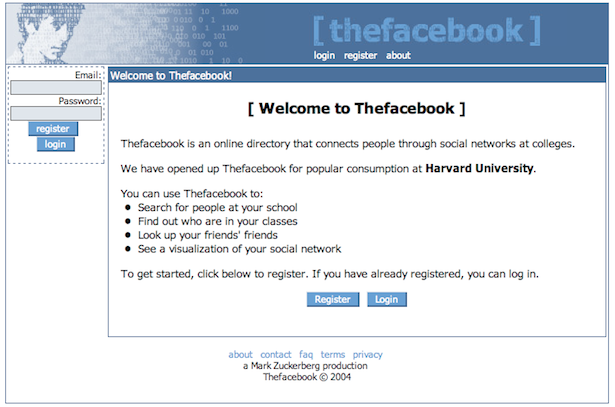 Facebook launched in 2004. Today, it has more users than the entire Internet had in 2004.
Before Facebook roamed the web, the digital world was dominated by big, bulky websites that assumed they'd stay big and bulky: Microsoft and its Hotmail, Time Warner and its AOL, Ask and its Jeeves. It's striking how much the Internet has changed since Facebook sprinted onto the scene -- and more striking still how much Mark Zuckerberg's production did to change the course of that scene.
Back in 2004,
the web had some 50 million sites. (Today, it has more than 600 million.) 
the most popular brand on the World Wide Web was Microsoft's MSN.
Google was the fifth most popular brand on the World Wide Web, ranking below Yahoo and AOL.
people still talked about the "World Wide Web."
 "blog" -- defined as "a Web site that contains an online personal journal with reflections, comments and often hyperlinks" -- was chosen as Merriam-Webster's word of the year.
Britney Spears was Google's most popular search query -- followed by Paris Hilton, Christina Aguilera, and Pamela Anderson. (Yes! Pamela Anderson!)

Janet Jackson's Super Bowl wardrobe malfunction was the most searched term to date on Lycos.
people still used Lycos. 
The Howard Dean campaign was pioneering grassroots organizing and fundraising on the Internet.
Time magazine was recommending Friendster.com as one of the best websites of the year.
the BBC was recommending Encyclopedia.com as one of the web's "most useful websites." (Wikipedia launched in early 2001.) 
trojan viruses were a pernicious problem.
Mapquest was the Internet's third most-searched brand name.
MySpace, having launched in January 2003, hoped to become the web's dominant social network. (Which it was for a while, if you recall.)

Friendster, launched in 2002, hoped to become the same. (Which it did not.)
The brand-new photo-sharing site Flickr boasted about its "outrageously simple" drag-and-drop capabilities. ("Post to your weblog!")
you could still ask questions of Jeeves.
"Wallpaper' ranked number one on Google's list of most searched-for "tech stuff."
Kazaa ranked number two.