The Average Person Alive During WWII and Now on Facebook Has 42 Friends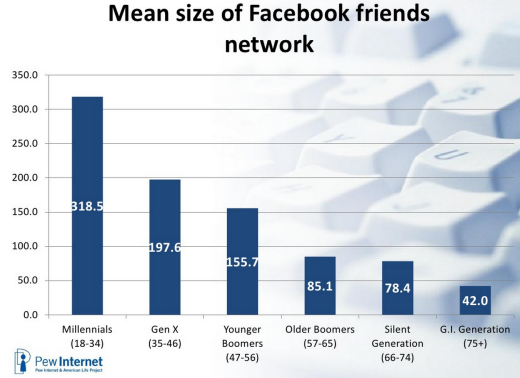 People who are older than 75 have seen the world do some crazy things. They were born during or before Hitler's rise to power, lived through the deprivation and horrors of World War II, saw atomic weapons used in war, experienced the construction of our nation's highway network, waged the Cold War, and enjoyed booms in real estate, chemicals, electronics, computers, and networks.
And, now, many find themselves on Facebook, the latest in a long string of companies that have gone public since there were fighter planes over the fields of France. A
new Pew study
finds that the average person over the age of 75 on Facebook has 42 friends. That may be the smallest number of any age cohort, but it's certainly not nothing. Previous research found that
people in their mid-70s and up were the fastest growing group of social media adopters
in 2010. Now, more than 16 percent of people in that bracket are cruising Facebook and other social networks.