Public Service Announcement: Clean Your Computer Immediately
Do it for your PC. Do it for your health. Do it for you.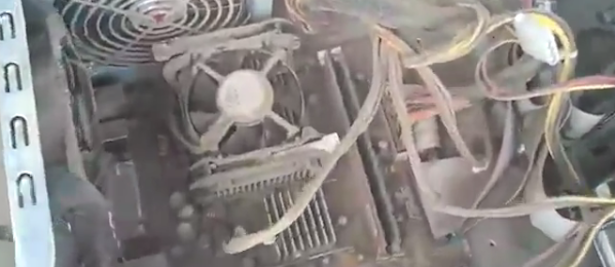 Don't let their shiny exteriors fool you: Computers are filthy things. And their grime extends beyond their exterior surfaces. The blog Geeks Are Sexy, shocked at a YouTube video of a dust-spewing PC tower, asked its readers to share their own "dirty PC" stories. Among the things commenters said they found lurking inside computers:
dead crickets
"2-300 dead cockroaches"
cat urine
mouse urine
dog feces 
a blanket of dust over the motherboard "so thick you couldnt see the power light diode on the board when it was powered"
cigarette smoke residue
flammable coal dust
"low level nuclear waste"
cement dust 
tire dust
saw dust
"6 inch long caterpillars of tar dust bunnies"
a fork 
a tube of Arctic Silver
a nest of mice
Now, sure: These are, in the best of circumstances, edge cases. Even if you're a coal miner/chain smoker/cat hoarder, the inside of your PC is likely much less disgusting than anything suggested in the commenters' list. (Particularly if your preferred machine is a laptop or tablet -- both of which, in a surprising selling point, provide pretty poor housing for mice and cockroaches.)
Still. Even for computer users of average filth, the machines we're constantly touching -- which are also the machines that are constantly touching us -- are probably much dirtier than we'd care to believe. (Remember that study of iPads in the Apple Store -- the one that found staph bacteria and yeast spores, among other microbes, lurking on the devices' touchscreens?) The dirtiness isn't just a health issue: Dust and lint can clog up computers' internal cooling vents, which in turn can cause their central processors to overheat. And overheating is the biggest cause of component failure in computers.
SO. If you accomplish nothing else today, accomplish this: Clean your computer! Using this or another step-by-step guide! Get out the paper towels and the compressed air and the (?) rubbing alcohol and the (??) cotton swabs and the (???) safety goggles. Clean the inside; clean the outside. Rid your valuable machine of dust and dirt and mice and mites. Start summer with, if not a clean slate, at least a clean trackpad.