Pleasant Smells of 1948 'Frisco: Chocolate, Coffee, Crabs, Oil
These smells might not belong together after the environmental movement, but that's how they appeared in a 1948 textbook.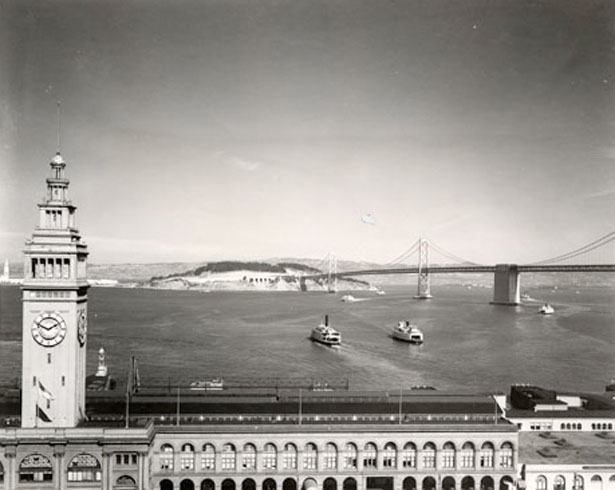 San Francisco Public Library
There is no end to the treasures that lurk in Rick and Megan Prelinger's Library, which has a physical home in San Francisco and a virtual one at archive.org. Just a minute ago Rick Prelinger tweeted a page from a 1948 school textbook that includes a list of pleasant things to smell in the city. They include:
"The beautiful flowers in Golden Gate Park"
"The cooked lobster and crabs and shrimp along Fisherman's wharf"
"The coffee roasting in factories near the Ferry Building"
"Delicious chocolate" from "the factories near Aquatic Park"
"Vegetables in our great wholesale district"
"The salt of ocean spray" and "The clean, washed air of the Pacific Ocean"

"Oil from ships along the piers by the Embarcadero"
Hmmm... Which one of these does not belong?
At least that was my thought on first inspection. But then I started to think about the way these smells are framed. Humans are responsible for nearly all of them. It's not just chocolate it's chocolate from a set of factories; it's not just crabs, but cooked crabs. It's not just oil, but the oil that powers ships that bring goods to the city and leave with its salable cargo. These students are not smelling the California landscape so much as the goodness of humanity's own creations from fuel to farmed vegetables.
In fact, the primer leaves it to a talking seagull (?) to deliver the ode to ocean spray and clean, washed air. Nature appreciated nature. Humans appreciated humans.
What's odd about it to the modern reader is that it's missing any kind of consciousness about the possible unforeseen repercussions of oil (relative to chocolate and veggies). There is no sense that it might end up in a different category in our time.
This was still a city (and an America) that had a simpler relationship to the artifacts of civilization than we have now after a few more decades of environmental problems and solutions.

P.S. No getting mad about my abbreviation of San Francisco to 'Frisco. I had to do it: Just look at the length of that headline.