But that was then. Also, it's a free country, and I can hardly be expected to keep others from expressing their views.
So I have changed my mind and feel like complaining one more time. I'll start off by explaining why.
Until yesterday afternoon at 4:30 EDT, the enforced change to "new look" Gmail was for me not a final, final thing. On both of my laptops, all of the tabs in all of the browsers had gone over to the new side. But on my desktop, one lonely Gmail tab in Chrome had been opened on April 21, in the innocent era just one day before the enforced changeover. I decided I would keep that tab and its Gmail session going as long as I could.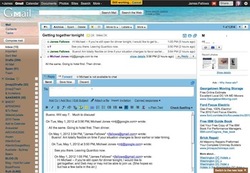 I did all my email work in that one "legacy" tab, marveling at how much I preferred it to the new-look Gmail that was the only option in any newly opened tab. I carefully "slept" the machine at night rather than shutting it down. I cancelled any software update that required a system reboot. I worried about what would happen if I unthinkingly closed the tab. It was my living connection to happier days.
It had to end some time. Power outage? Overall system freeze? Act of God? It ended yesterday afternoon. I was in the middle of composing a message -- as it happened, to a friend who works at Google -- and that tab froze. That's a deliberately low-rez shot of it, on the right, taken during what turned out to be a perpetual "still working" error message. I gave it overnight to stew, and then this morning I gave up altogether. I closed the tab, opened up a new one, and re-loaded Gmail. The new look is here, and the old one is finally gone.