How Do We Know How Far Away Distant Galaxies Are?
A video explains how we gauge the thousands, millions, or even billions of light years that separate us from the glowing objects we see with our most advanced telescopes.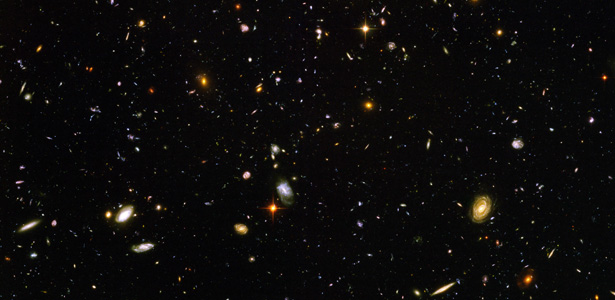 NASA
Over the past two decades, as the biggest, most powerful telescopes in history have transmitted their starry images down to Earth, we have seen pictures of places in the universe so distant that the light we see from them is billions -- with a "b" -- of years old. How do astronomers know this? How can they tell how far away these distant objects are, and how long their cast-off wavelengths have taken to arrive at our telescopes?
In the video below, astronomer Olivia Johnson of the University of Nottingham explains the different the three techniques (parallax, standard candles, and redshift) that scientists use for taking astronomical measurements. "What's most incredible to me," she says, "is how all these measurements build on each other." And while that may be incredible in its own way, it's got nothing on the vastness of the universe we're measuring -- and the pictures we have of it.
Via @openculture.