Here Is a Map of 14,000 Venture Capital Investments
A company has tracked the connections -- and the cliques -- of the VC social scene.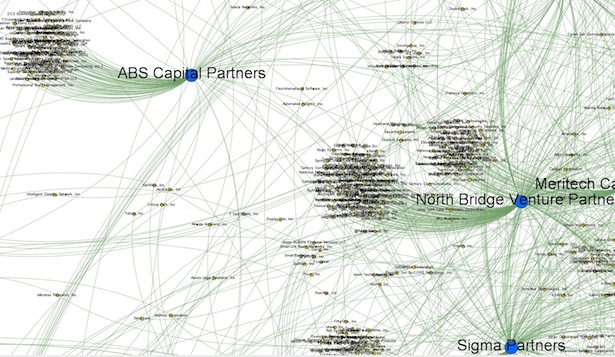 Cooperation, whether it takes place among the hunter-gatherer tribes of Africa or the meme-spreading users of the Internet, works pretty much the same way: It depends on social connections, the existing and the newly forged, between individuals. If you map out social networks, they're going to look pretty much the same no matter what you're mapping: an explosion of overlapping hubs and spokes, with nodes emerging as pulse points of influence and virality.
The same is true for the networks that form the root system of the tech startup ecosystem: venture capital firms. Using data from 279 firms, the network analysis company Activate Networks mapped the connections that form between and among VCs -- based on the overlap of those firms' nearly 14,000 investments. As CEO Larry Miller explains: "If Firm 1 invests in Company A, and Firm 2 invests in Company A, then that's a connection."
From the maps, a picture of VCs as a social network begins to emerge. "There are clearly a number of venture firms that invest very frequently with others -- and often with the same group," Miller told me. "And there are a lot of firms that invest either occasionally, with just a few firms, or almost always by themselves."
Like people, VC firms can be introverted or extroverted. And "there are cliques among venture firms," Miller adds, "like there are in many markets and many business areas."
The most connected firms in Activate's map? InterWest Partners, Canaan Partners, Alta Partners, Morgenthaler Ventures, SV Life Sciences Advisers LLC, and U.S. Venture Partners.
Here's one detail:
And here's another: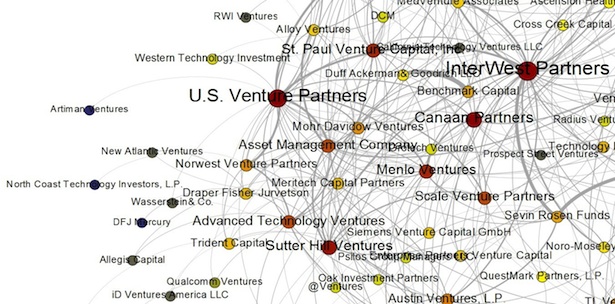 Miller is quick to caution against reading too much into the maps themselves. "Can I state that every connection we've mapped here is one that's of major importance? No," he says. "But it's highly likely that these connections are meaningful" -- not only because a capital investment is almost always also a social investment, but also because a link itself can be its own data point in the wacky world of start-up industry. "Connections matter," Miller says. And analyzing them can help us appreciate, from a social perspective, "how organizations work, how organizations make decisions -- and, in this case, how organizations invest."
He's got research to back him up. Activate Networks builds its connection-mapping technology off of
network science
, the intriguing and increasingly popular academic field that applies quantitative approaches to social dynamics. Researchers like 
Nicholas Christakis
 at Harvard, 
James Fowler
 at UC San Diego, and 
Rob Cross
 at UVA are applying network thinking not just to digital social networks like Facebook ... but also to their analog counterparts: companies, teams, investment firms.
The real value of social mapping, Miller argues -- whether you're talking about hospital org structures or corporate supply chains -- is the invitation it offers to tease out the implications of the connections it reveals. It's only a little bit interesting that Morgenthaler is connected to Alta. It could be very interesting, though, to find out how Morgenthaler is connected to Alta. And how their link resembles the connection between, say, InterWest and Austin Ventures. And what might it mean that the most connected firms in Activate's map generally specialize in IT and medical science?
If VCs are cliquey, in other words, it's worth wondering how they're cliquey. Do the Mathletes and the jocks ever hang out? What happens when student government and the drama club get together? Where, in this ecosystem, is the line between cooperation and competition? "By using a network approach, you begin to see things that aren't accessible just by looking at lists or by looking at spreadsheets," Miller notes. "You begin to see connections in a way that's somewhat difficult to see using other approaches."