Can a Better Vibrator Inspire an Age of Great American Sex?
Sex toys have transformed into sophisticated and well-designed gadgets that take their inspiration from Apple not Hustler. But one company has a bigger hope: that a better machine could mean better sex for a repressed nation.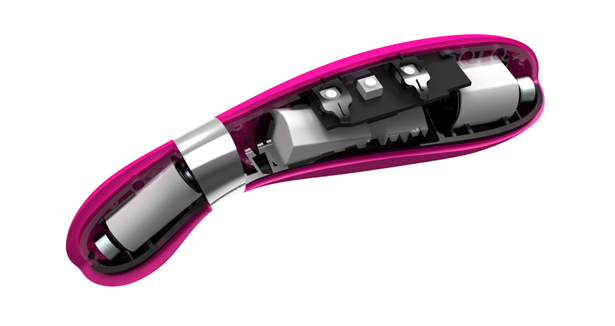 The offices of Jimmyjane are above a boarded-up dive bar in San Francisco's Mission district. There used to be a sign on a now-unmarked side door, until employees grew weary of men showing up in a panic on Valentine's Day thinking they could buy last-minute gifts there. (They can't.) The only legacy that remains of the space's original occupant, an underground lesbian club, is a large fireplace set into the back wall. Porcelain massage candles and ceramic stones, neatly displayed on sleek white shelves alongside the brightly colored vibrators that the company designs, give the space the serene air of a day spa.
Ethan Imboden, the company's founder, is 40 and holds an electrical engineering degree from Johns Hopkins and a master's in industrial design from Pratt Institute. He has a thin face and blue eyes, and wears a pair of small hoop earrings beneath brown hair that is often tousled in some fashion. The first time I visited, one April morning, Imboden had on a V-neck sweater, designer jeans and Converse sneakers with the tongues splayed out -- an aesthetic leaning that masks a highly programmatic interior. "I think if you asked my mother she'd probably say I lined up my teddy bears at right angles," he told me.
Imboden was seated next to a white conference table, reviewing a marketing graphic that Jimmyjane was preparing to email customers before the summer season. Projected onto a wall was an image that promoted three of Jimmyjane's vibrators, superimposed over postcards of iconic destinations -- Paris, the Taj Mahal, a Mexican surf beach -- with the title: "Meet Jimmyjane's Mile High Club: The perfect traveling companions for your summer adventures." The postcard for the Form 2, a vibrator Imboden created with the industrial designer Yves Behar, was pictured alongside the Eiffel Tower with the note: " Bonjour! Thanks to my handy button lock I breezed through my flight without making noise or causing an international incident. See you soon, FORM 2."
Jimmyjane's conceit is to presuppose a world in which there is no hesitation around sex toys. Placing its products on familiar cultural ground has a normalizing effect, Imboden believes, and comparing a vibrator to a lifestyle accessory someone might pack into their carry-on luggage next to an iPad shifts people's perceptions about where these objects fit into their lives. Jimmyjane products have been sold in places like C.O. Bigelow, the New York apothecary, Sephora, W Hotels, and even Drugstore.com. Insinuating beautifully designed and thoughtfully engineered sex toys into the mainstream consumer landscape could push Americans into more comfortable territory around sex in general. Jimmyjane hopes to achieve this without treading too firmly on mainstream sensibilities. "Not everyone sits in a conference room and talks about vibrators, dildos, anal sex, clitorises -- and we do," Imboden explained. "It's important for us to remain a part of the mainstream culture and sensitive to how normal people discuss or don't discuss these subjects."
Ten years ago, walking into the annual sex toy industry show for the first time, Imboden was startled by the objects he encountered. He had developed DNA sequencers for government scientists at Lawrence Berkeley National Laboratory, and more recently he had left a job designing consumer products -- cell phones and electric toothbrushes -- for companies like Motorola and Colgate, work he found dispiriting. "It was imminently clear to me that I was creating a huge amount of landfill," Imboden told me. "I wanted no part of it." He struck out on his own, and found himself approached by a potential client about designing a sex product.
The floor of the Adult Novelty Manufacturers Expo, held that year on the windowless ground level of the Sheraton in Universal City, California, flaunted fated landfill of a different sort: a gaudy display of "severed anatomy, goofy animals, and penis-pump flashing-lights kind of stuff," Imboden recalled. These tawdry novelties dominate the $1.3 billion-a-year American sex toy market. They are the output of a small but cliquish old boys' network of companies you've probably never heard of, even if you have given business to them. One of these, Doc Johnson, was named as a mocking tribute to President Lyndon B. Johnson, whose justice department in the 1960s tried in vain to prosecute the late pornographer Reuben Sturman, the industry's notorious founding father. Sturman invented the peep show booth, and built a formidable empire of adult bookstores that for decades constituted the shadowy domain where such products were sold, usually to men.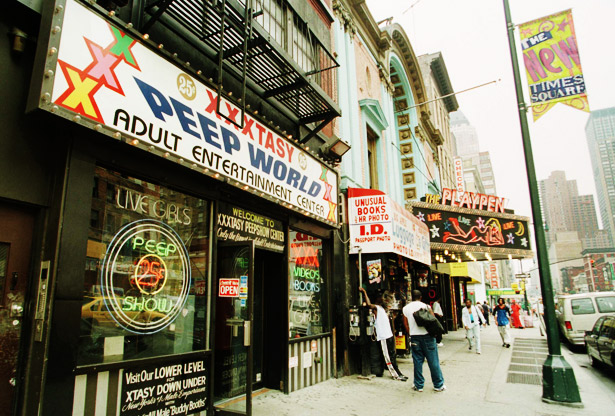 Imboden was inspired. "As soon as I saw past the fact that in front of me happened to be two penises fused together at the base, I realized that I was looking at the only category of consumer product that had yet to be touched by design," Imboden said. "It's as if the only food that had been available was in the candy aisle, like Dum Dums and Twizzlers, where it's really just about a marketing concept and a quick rush and very little emphasis on nourishment and real enjoyment. The category had been isolated by the taboo that surrounded it. I figured, I can transcend that."
At dinner parties in San Francisco, where he lives, Imboden found that mentioning sex toys unleashed conversations that appeared to have been only awaiting permission. "Suddenly I was at the nexus of everybody's thoughts and aspirations of sexuality," he said. "Suddenly it was OK for anyone to talk to me about it." It occurred to Imboden that the people who buy sex toys are not some other group of people. They are among the half of all Americans who, according to a recent Indiana University study, report having used a vibrator. They are people, like those waiting outside Apple stores for the newest iPhone model, who typically surround themselves with brands that reinforce a self-concept. They spend money on quality products, and care about the safety of those products. Yet, for the very products they use most intimately--arguably the ones whose quality and safety people should care most about--they were buying gimmicky items of questionable integrity. It's just that people had never come to expect or demand anything different--silenced by society's "shame tax on sexuality," as one sex toy retailer put it to me. And few alternatives existed.
Jean-Michel Valette, the chairman of Peet's Coffee, who would later join Jimmyjane's Board of Directors, told me: "I had thought the opportunities for really transforming significant consumer categories had all been done. Starbucks had done it in coffee. Select Comfort had done it in beds. Boston Beers" -- the makers of Samuel Adams -- "had done it in beer. And here was one that was right under everyone's nose."
Jimmyjane's success has inspired a growing class of design-conscious companies--including Minna, Nomi Tang and Je Joue--that are beginning to clean up an unscrupulous industry long cloaked by American discomfort around sex. LELO, a Swedish brand founded by industrial designers, creates up-market products with names--Gigi, Ina, Nea-- that sound like feminized IKEA furniture. (Try Gigi on the SVELVIK bed!) OhMiBod, a line of vibrators created by a woman who once worked in Apple's product marketing department, synchronize rhythmically with iPods, iPads, iPhones and other smartphones.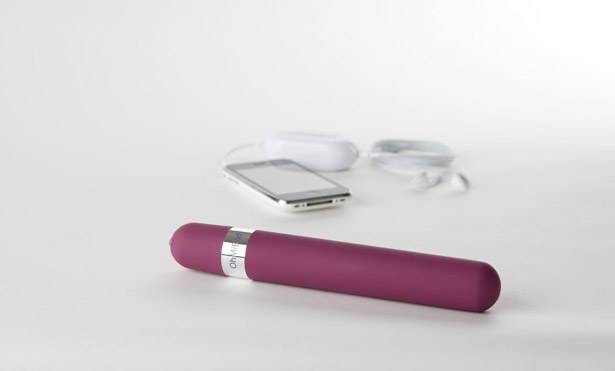 I asked Imboden what qualified him to design a vibrator, a device primarily intended for female pleasure. Imboden said he considers himself "decidedly heterosexual," but also "universally perceptive," and he suspects that the formative childhood years he spent living with his mother and older sister, after his father died of cancer when he was two, may have nurtured within him a certain empathy for the opposite sex. (His father had also been an engineer, also worked at Lawrence Berkeley Laboratory, and ended up starting a dressmaking company called Foxy Lady.) "Ethan has an intellectual curiosity and an emotional maturity that doesn't stop him from exploring something that a man 'shouldn't,'" said Lisa Berman, Jimmyjane's C.E.O., who came from The Limited and Guess and is among the company's all-female executive team. "He is a real purist in the way he thinks, not just about engineering and design but the emotional connection that these products might assist in a relationship. He can do that better than anyone that I've met."
Imboden enlisted his mother and sister to help him start the company. These made for some strange moments, as in the time when his mom complimented him on a well-written description of how a vibrator could be inserted safely for anal use, calling out from across the room, "Ethan, you handled the anus beautifully." His friend Brian and other close friends invested initial seed money. Professional investors were intrigued but hesitant; here was a first-time entrepreneur, making a consumer product that was not, strictly speaking, technology (being the Bay Area this mattered)--and it was about sex. "They were scared of it," Imboden said. (Banks still refuse their business, citing vague "morality clauses.") Tim Draper, a prominent Silicon Valley venture capitalist known for backing ventures like Skype and Hotmail, thought differently. "He had a unique way of looking at the world, and a great sense for product design," Draper wrote to me in an e-mail. "He understood branding."
Little Gold, Jimmyjane's first vibrator, is a slender thing that could be mistaken for a cigar case. Imboden developed and patented a replaceable motor that slides inside the 24-carat gold-plated shell, which he engineered to vibrate in near silence. It is a portable, durable, and waterproof sex toy designed never to become landfill. For Imboden, it was merely a proof of concept. "It's an immediate of disruption of the associations that we have with sexual products," he said.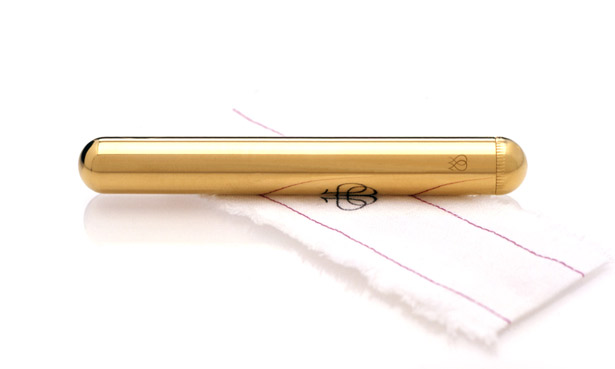 The trendy London-based apothecary, Space.NK, bought the concept, and displayed Jimmyjane right next to Marc Jacobs' new fragrances. Soon after, Selfridges, the high-end British department store, carried the company's products. For Imboden, debuting in European retailers was a deliberate end-run around American social taboos, and also made a sidestep of the sex toy industry entirely. It was a statement that products like vibrators did not have to be relegated to their own store or a discreet Web site. Premiering in lofty precincts before trickling down to the mainstream borrowed from a fashion playbook: Little Gold could be thought of as Jimmyjane's couture offering, its runway showpiece. A more accessible aluminum version, Little Chroma, now sells for $125 at Drugstore.com.
Early on, Imboden would also hang around celebrity gatherings, putting vibrators in the hands of influencers. After the Grammy Awards one year, he found himself walking across an intersection in front of a white low rider. Inside, two heads bobbed to music; "Snoop de Ville" ran across the side of the car. As Imboden jogged over to the front window, he reached inside his shoulder bag for a vibrator, and "it dawns on me that this is a perfect recipe for getting shot," he recalls. Snoop Dogg was behind the wheel, talking on a cell phone; a chandelier swayed gently above him. Imboden handed him a Little Something. "This dude just gave me a 24k gold vibrator," Snoop relayed into the phone. Then he turned to Imboden. "Thank you, my nigga. I'm gonna put this to work right now."
In January 2005, the Little Gold made it into the Golden Globe Awards gift suite, the freebie swag lounge that, in those days, A-list celebrities actually visited. "To have a non-fashion item like that at one of these showcases was really unusual and groundbreaking," Rose Apodaca, the West Coast bureau chief of Women's Wear Daily at the time, told me. "It was the hot item everyone was trying to get their hands on." Teri Hatcher and Jennifer Garner, by picking one up, became among the brand's first celebrity endorsers. Apodaca wrote about it in WWD's awards season special. "Suddenly there's this tool for sex being featured in the bible of the fashion industry." After Kate Moss was spotted purchasing a Little Gold from a Greenwich Village lingerie boutique -- a "buzz-worthy bauble," Page Six wrote -- Jimmyjane appeared in Vogue.
***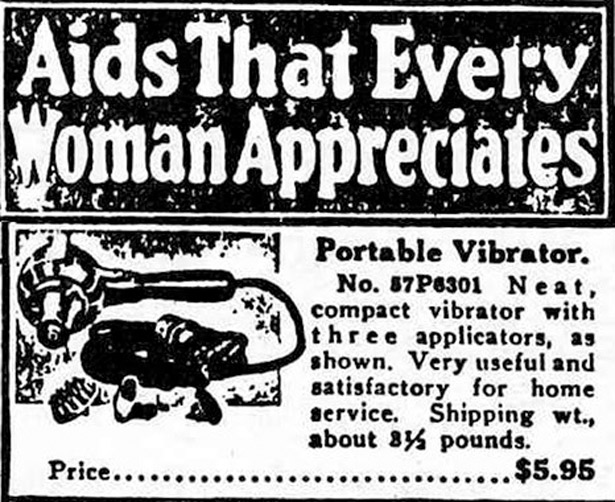 After the introduction of electric lights in 1876, home appliances were plugged in, one by one, beginning with the sewing machine and followed by the fan, the teakettle, the toaster and then, the vibrator. (The vacuum cleaner would come ten years later.) Ads for them appeared in Hearst's, Popular Mechanics, Modern Women and Women's Home Companion, among many others. A National Home Journal ad in 1908 for a $5 hand-powered vibrator, declared: "Gentle, soothing, invigorating and refreshing. Invented by a woman who knows a women's needs. All nature pulsates and vibrates with life." Another in American Magazine claimed that the vibrator "will chase away the years like magic...All the keen relish, the pleasures of youth, will throb within you...Your self-respect, even, will be increased a hundredfold." A Sears, Roebuck catalog in 1918 advertised a portable vibrator on a page (with fans and household mixers) of "Aids That Every Woman Appreciates."
Was this language camouflage for an orgasm? Were these vibrators also intended, with a wink, for masturbation? This has become the popular history of the device as written by Rachel Maines, a Cornell researcher, who argued in her 1999 book "The Technology of Orgasm" that electric vibrators replaced the hands of doctors who, from the time of Hippocrates to the 1920s, had been massaging women to orgasm as a treatment for hysteria.
Hysteria: The 17th century French physician Lazare Rivière's described it as "a sort of madness, arising from a vehement and unbridled desire of carnal embracement which desire disthrones the Rational Faculties so far, that the Patient utters wanton and lascivious Speeches." Today, this sounds a lot like normal functioning of female sexuality. But men long viewed it as a disorder. During antiquity physicians believed that hysteria was caused by the womb meandering around the body, wrecking havoc, yet by the 19th century the term had become "the wastepaper basket of medicine where one throws otherwise unemployed symptoms," as the French physiatrist Charles Lasègue put it. (The American Psychiatric Association finally dropped hysteria altogether from the Diagnostic and Statistical Manual of Mental Disorders in 1952, the same year it added homosexuality.)
Virgins, nuns, widows and women with impotent husbands were thought especially prone. Victorian physicians, especially in England and the United States, were wary of female arousal. They viewed it as a dangerous slope towards uncontrollable desires and ill health, and advised women against tea, coffee, masturbation, feather beds, wearing tight corsets, and reading French novels.
Maines argues that relieving women of this pent-up desire was a standard medical practice. She takes us back to the Greek physician Soranus, who in the first century A.D. discussed his treatment: "We...moisten these parts freely with sweet oil, keeping it up for some time," he wrote. Helen King, a historian and leading authority of Classical medicine at England's Open University, told me that a correct translation of this passage has him massaging the abdomen, the typical treatment for yet another female disorder--chronic flowing of female "seed"--for which rose oil was prescribed, along with cold baths and avoiding sexy pictures. Rather, King says, it is with the influential Roman physician Galen where we see the first explicit mention of genital massage to orgasm as a medical treatment. Galen discusses a woman rubbing "the customary remedies" on her genitals--sachets of Artemisia, marjoram and iris oil--and feeling the "pain and at the same time the pleasure" associated with intercourse.
But did doctors do the deed? Probably not in antiquity, King said--there was a taboo against such things even back then, and the task was likely assigned to midwives. References in the annals of medicine to genital massage are oblique, leaving a trove of circumstantial evidence, with some exceptions, like the British physician Nathaniel Highmore complaining in the 17th century that massaging the vulva was "not unlike that game of boys in which they try to rub their stomachs with one hand and pat their heads with the other." Maines believes that doctors considered this a tedious task, and not a sexual act, since sexual relations, especially in those pre-Clinton centuries, meant proper intercourse. However, if intercourse failed to relieve the symptoms of desire--only recently have we known that up to seventy percent of women cannot reach orgasm from intercourse alone--doctors prescribed hydrotherapy (the douche sprays in Saratoga Springs, NY were a popular destination for women whose husbands were at the racetrack) or an office visit.
In 1869 an American physician, George Taylor, patented a steam-powered contraption called the "Manipulator," in which a patient lay stomach-down on a padded table and received a pelvis massage from a vibrating sphere. The Chattanooga, a 125-pound apparatus that sold in 1904 for $200, was used on both sexes for various treatments including, the company's catalog described, "female troubles." All manner of inventions were marketed to doctors: musical vibrators, vibratory forks, vibrating wire coils called vibratiles, floor-standing models on rollers and portable devices shaped like hair dryers. They were powered by air pressure, water turbines, gas engines, and batteries. We don't really know how common the practice of massaging women with these devices actually was--Maines's book touched off a debate among sex historians, with some arguing that it was probably rare and considered quack medicine--but in any case, after the first electromechanical vibrator was patented in 1880, vibrators marketed for home use flourished. General Electric and Hamilton Beach both made handheld devices that looked like hair dryers, boxed with various attachments. (I recently found a 1902 Hamilton Beach vibrator listed on eBay for $25.99.) Women could now regain the "pleasures of youth" through their own devices.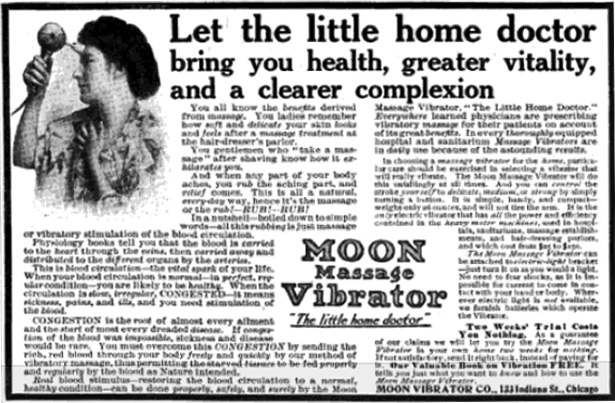 For reasons that are not entirely clear, vibrator ads gradually disappeared from up-market magazines after the 1920s, and went underground. Fifty years later they would resurface -- Hitachi's Magic Wand Massager first appeared in the 1970s and remains one of the top-selling vibrators, even though the company will tell you it doesn't make vibrators -- and feminists in New York City began teaching women self-pleasure. By the 1990s, Bob Dole was talking about erectile dysfunction as the pitchman for Viagra, and the Starr Report described fellatio and a semen-stained dress, pushing the boundaries of acceptable mainstream media conversation.

And then, Miranda presented Charlotte with the Rabbit Pearl, a pink, phallus-shaped vibrator with rotating beads and animated bunny ears, on prime-time cable television.

Everyone in the sex toy business whom I spoke with credits "Sex and the City" with profoundly changing the way Americans now talk about sex toys. The Rabbit Pearl became an overnight sensation -- "Talk about product placement," the vibrator's manufacturer, Dan Martin of Vibratex, told me. With clean, well-lit stores like Good Vibrations and Babeland; the Tupperware-inspired, sex-toy house gatherings for women known as Pleasure Parties ("Where Every Day is Valentine's Day"); and the Internet -- which opened all kinds of new avenues for sexual adventure -- women now had safe and discreet places to buy it. The Rabbit Pearl is still the top-selling sex toy, although the original from Vibratex has been knocked off so many times that "the rabbit" has become generic.
In an episode during the fifth season of "Sex and the City," Samantha walks into a Sharper Image to return her vibrator.
"We don't sell vibrators," the clerk tells her.
"Yes you do, I bought this here six months ago," Samantha replies, holding up the device.
"That's not a vibrator," he says, "that's a neck massager."
Within Sharper Image, that neck massager became known jokingly as "the Sex and the City vibrator," but in 2007, Imboden approached the company with the Form 6. Literally the sixth in a series of vibrator sketches -- Imboden believes in minimalist names -- the Form 6 has a curved, organic shape that is suggestive without being representational. It is wrapped completely in soft, platinum silicone, making it completely water-resistant, and charges on a wall-powered base station through a narrow stainless steel band, a novel cordless recharging system that Imboden patented. For these features, the Form 6 earned an International Design Excellence Award, the first time a sex toy had earned such a distinction. It comes in hot pink, deep plum or slate--non-primary, poppy colors that he believes convey sophistication. It is packaged in a hard plastic case inside a bright white box -- "literally and figuratively bringing these products out of the shadows," Imboden said. And it has a 3-year warranty (this may not seem remarkable, but is for a sex toy).
"It was certainly controversial internally," recalled Adam Ertel, Sharper Image's buyer at the time. Sharper Image decided to try the Form 6 in a few stores -- "a waterproof personal massager" is how they described it -- and, to everyone's surprise, the Form 6 soon became one of the retailer's best selling massage items. They quickly rolled it out nationwide. "It was clear to all of us that we were treading on new ground," said Ertel. "We realized that the people that bought the Form 6 for its intimate nature may be a large group of consumers that people aren't strategically selling to."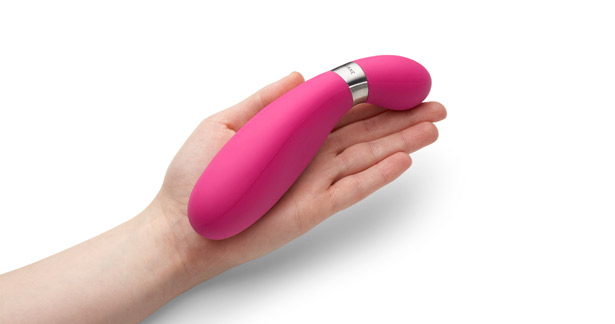 One afternoon in May, I joined Imboden at a meeting with Yves Behar to talk through ideas for the Form 4, their next vibrator. They met at Behar's downtown San Francisco design studio, fuseproject, around a conference table topped with some rudimentary prototypes that they would pick up and flex in different directions while discussing "torque" and "harmonics" and "programming sequences." On a counter along the back wall stood a desk lamp that Behar designed for Herman Miller. Behar is perhaps best known for creating the One Laptop Per Child computer and perhaps least known for designing both New York City's branded bike helmet and its official condom dispenser. The two had been friends for a while -- Behar was an early advisor to Jimmyjane -- before deciding, a couple years ago, to collaborate. "Isn't this that old fashioned Playboy mansion cliché, two guys coming up with products used for women?" Behar asked. "I don't know if it is because I have twenty-plus years experience of design or thirty years of sexual experiences. You put the two together and you can get to some really interesting places."
During the initial brainstorms, which included the women on their respective teams, some awkward workplace conversations, and plenty of giggling, Imboden and Behar identified three different functions that a vibrator should deliver. They decided to roll them out in a trio of devices -- a collection they've named "Pleasure to the People" -- all built upon a modular base structure that houses a common digital interface, wireless rechargeable battery and motor. They designed the Form 2, their first product, to be a "new interpretation" of the Rabbit Pearl. Its form is compact, resting ergonomically in the palm of the hand, with a novel shape that resembles a padded tuning fork or a portly, marshmallow Peep Easter bunny -- suggestive enough of the iconic Rabbit to appear familiar to people, but amorphous enough that they don't dwell too much on what it looks like. "It's not just a lumpy random shape," Imboden pointed out. "I think there's a real sense of purpose in the forms which communicate that this is not an arbitrary act or a whimsical random thing we've created."
Through their design, Imboden wants to convey the sense that these are carefully considered objects--that someone is looking out for our sexual well-being, even if we have been conditioned to have low expectations. "I jokingly say this is an area where you really don't want to disappoint your customers," Behar told me. "And I think this is an industry that has treated its customers really badly." The Form 2 takes a symmetrical, organic form but they avoid emulating anatomy, because while "the penis is very well designed to accomplish what it needs to accomplish, a vibrator doesn't actually need to do those same things," Imboden said. One function it was not designed to accomplish was to stimulate a woman's G spot, but even if it did, mimicking male genitalia treads on psychological territory that Imboden would rather avoid. "While on the one hand that has its own excitement, there becomes a third person," he said, noting that some men feel threatened by an object they perceive to be a substitution for themselves. "People aren't necessarily seeking to have a threesome. Our goal has really been for the focus to be on you and your sensations and the interaction with your partner and not really to pull attention to the product itself. That's an element of why we make the products as quiet as they are. It's also why we make them visually quiet." Representational objects, like taxidermy hanging in a lodge, take up psychic space; figurative forms leave fantasy open to one's own interpretation. "Staying away from body shapes," Imboden explained, "is a way of keeping open provocative possibility, as opposed to narrowing it down to a provocative prescription."
The Form 3, the second vibrator designed with Behar, has a vibrating, ultra-thin soft silicone skin that flexes into the curve of the palm. The Form 4, the two men discussed that afternoon, should "deliver an oomph." Imboden believed they could achieve this by setting two motors to vibrate at different frequencies. Behar pondered an internal structure that would allow the vibrator to bend in various directions, similar to the neck of his Hermann Miller lamp. "Plus it makes it looks exactly like Barbapapa, my childhood hero," he said, referring to the popular French cartoon creature that looks like a pear-shaped blob and can change shape. "For each of these projects we came up with some funny metaphors," he told me. "It keeps you true to the original concept."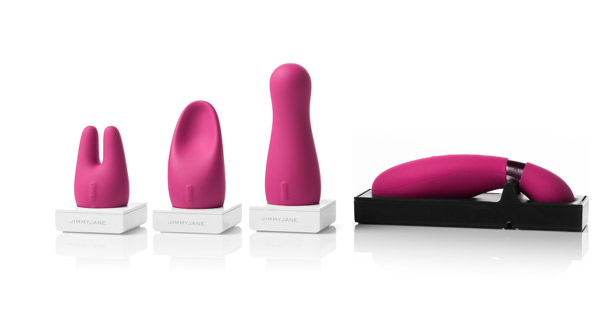 From a study released in 2009 by Indiana University, the first academic, peer-reviewed study to look at vibrator use, we now know that 53 percent of women and nearly half of all men in the United States have used a vibrator. This makes it nearly as common an appliance in American households as the drip coffee maker or toaster oven, The New York Times reported, and about twice as prevalent among American adults as condoms, according to Church & Dwight, maker of Trojan condoms, which funded the Indiana University study. Jimmyjane's own sales reveal that as many men as women, as many 25-year-olds as 50-year olds, and as many Virginians as Californians, per capita, are buying vibrators. At each phase of life, a sex toy might take on new meaning; perhaps, initially, as a way to explore one's own body, but later, within a long-term relationship, as a way to sustain excitement. Today sex therapists are hearing more discussion of what they call "desire discrepancies" -- one partner wanting sex more, or less, or in a different manner, than the other. "Our bread and butter used to be orgasm and erection problems," said Sandor Gardos, a sex therapist, adding that self-help sources and Viagra have arisen to address those issues. "There's more discussion now around the subtle and complex issues of relationship and sexuality."
Imboden sees Jimmyjane as playing into that discussion around sex and well-being, not only as a peddler of "marital aids" -- terminology still used by the handful of online sex-toy retailers catering to religious Christians -- but as a trusted provocateur. Guests looking for condoms at W Hotels will find Jimmyjane's Pocket Pleasure Set in their room's mini bar, a slim package containing condoms, a mini vibrator, a feather tickler, and the "love decoder"--a piece of paper folded like an Origami fortune teller that engages players in titillating acts through a game of chance. "Everybody wants to try these new boundaries but they need a catalyst to make this happen," Imboden told me. "We are granting them permission by transferring the responsibility to us."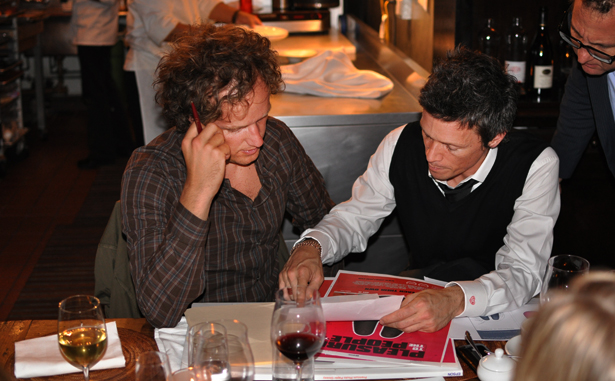 One day, I flew to Los Angeles with Imboden for a routine trip he was taking to different retailers that carry Jimmyjane. We started at Hustler Hollywood, an up-market sex emporium on a corner of the Sunset Strip, with a glass façade, bright lights and polished floors. Hard-core pornography was displayed just feet from an in-store coffee bar, arguably two things that should occupy different spaces, but the suggestion is to get over it. Presenting erotica stigma-free in the manner of a Barnes & Noble triggers the disorienting feel of a dark nightclub suddenly flooded with fluorescent ceiling lights, where everyone can see what you've been doing in the corner. But a fishbowl is precisely the metaphor of transparency Larry Flynt had in mind, and amidst this forthright statement of normalized sexuality (store motto: "Relax...it's just sex"), Jimmyjane is at home.
"With most other consumer products, like a pair of jeans, you have to convince people why they need it," Cory Silverberg, a certified sex educator and author who writes the Sexuality Guide for About.com, had told me. "With sex toys people come in already interested, and what you are doing is removing the obstacles. A lot of it is permission giving--saying that sex toys don't make you kinky, or that your boyfriend or girlfriend isn't good enough."
Imboden told me that Jimmyjane was the first to present sex toys in white packaging, and that retailers, accustomed to the candy-colored aesthetic, told him customers would never go for it. Several packages made by the company's competitors now have a cleaner, white look. Imboden picked one of them off a rack, and pointed out the words bullet-pointed on the package: body-safe materials, phthalate-free, waterproof. "You never used to see that," he said. European laws have driven much of the industry's attention to materials safety, but whether it is to be believed is something different. Sander Gardos, who founded MyPleasure.com, an online retailer of sex toys, had told me, "You cannot trust what's on the box--it has nothing to do with what's actually in there," recalling a manufacturer at a trade show in Shanghai who stood before a display of two boxes that contained the same product--one was labeled "100% TPR" (thermoplastic rubber), the other "100% silicone"--and then admitted both were made with PVC. "We have visited the Chinese factories that make all the toys that say 'Made in Japan,'" Gardos said. "There are tremendous quality control issues in this industry because it is completely unregulated."
A stand-alone glass case carried what the salesman distinguished as the "sex devices"--superior quality, more nicely designed, and higher priced products "that don't crap out," as he put it. Jimmyjane's products occupied two shelves. The case also displayed products by LELO and Minna. On another shelf was OhMiBod's Freestyle vibrator, which pulsates to music from an mp3 player. It bore a striking resemblance to the Form 6, down to its solid plum color and narrow metallic band.

Nearby, in West Hollywood, we stopped in at Coco de Mer, a luxury erotic boutique with outlets in London and Manhattan. With Dave Stewart of the Eurythmics, who is an investor in the store, Imboden designed a custom version of the Little Chroma in black, with Stewart's lyrics etched into the aluminum and a leather cord threaded through the cap, along with a custom guitar pick. We then met Robin Coe-Hutshing at Studio BeautyMix, her store inside Fred Segal, in Santa Monica (which has since changed ownership). A wall behind the custom fragrance counter displayed Jimmyjane's vibrators, white porcelain massage stones (for which it won an International Design Excellence Award); and scented massage oil candles, which were the first candles of any kind to be formulated with a melting point matching body temperature, an innovation that makes them an effective emollient when poured onto the skin. In an environment of soaps, perfumes, and skin cream, Jimmyjane's bright color palette and white boxes fit as seamlessly as they had in a room of maid outfits and butt plugs. If Hustler Hollywood and Studio BeautyMix might represent almost dichotomous approaches to sex -- the excitement of sexual fantasy versus the everyday made sexy -- Jimmyjane works in both worlds by remaining agnostic.
We finished our tour in Venice, at A+R, the design store that Rose Apodaca, the former Women's Wear Daily editor, opened with her husband Andy Griffith. The store displays a compendium of home accessories from designers around the world. The Form 2 sits on a shelf behind glass wall display next to the Braun travel alarm clock by Dieter Rams, and is sometimes mistaken by customers, according to Apodaca, for a Japanese anime toy. In the adjacent case, beside colored glass vases in the shape of honey bears, are the Form 6 and Little Chroma. "We wanted to include these products in our mix because we wanted it to seem like a perfectly normal part of one's lifestyle," Apodaca told me. "Just like they'd have a great wine carafe or a filtered water bottle." When Sasha Baron Cohen walked into the store the week before I visited and learned what that Little Chroma was, he proceeded to browse the store picking up random objects and asking, "Does this vibrate?"

Victoria's Secret, a $5 billion retailer ubiquitous today in American shopping malls, was founded in San Francisco in the 1970s by a Stanford Business School graduate who felt embarrassed buying lingerie for his wife in a department store, and set out to create a more inviting atmosphere for men. Soon, picking up a vibrator in a shopping mall, or a store that sells home accessories, cosmetics or lattes may seem rather conventional. It nearly is already. One of the faster growing categories in terms of sales at Walgreen's, the nation's biggest drugstore chain, is sexual wellness. Walgreens has been selling a vibrating ring--a gateway sex toy--made by Trojan since 2006, except in the seven U.S. states where it is illegal to do so; Target and Wal-Mart sell them as well. Amazon.com currently carries just under 80,000 sexual wellness products. Sales of "sexual enhancement devices" in mass food and drug retailers (excluding Wal-Mart) increased by 20 percent for the year that ended April 15, according to SymphonyIRI Group, a Chicago-based market research firm. Yearly sales of sexual products through home-party direct sales, like Pleasure Parties, are more than $400 million. "Vibrators are already mainstream," said Jim Daniels, Trojan's former vice president for marketing, who estimates the market for vibrators in the US to be $1 billion--more than twice that of condoms.
Trojan, along with Durex and Lifestyle, are among the large companies now developing vibrators that a place like Walgreen's might start to feel O.K. about selling under florescent lights. Trojan has introduced the $60 Vibrating Twister--the condom maker's third vibrator model. For a trial, Philips Electronics launched a line of "intimate massagers" under their Relationship Care category. "These big multinational companies are realizing there is a ton money to be made," says Cory Silverberg. "They will change things more significantly than the political feminist sex stores and some of the more interesting manufacturers like Jimmyjane." Mainstream manufacturers and retailers are couching these products as being good for sexual health--that it's not just about getting turned on, or being kinky, but about being healthy, like exercising and eating well. "That's not exactly a change in our comfort with sex", says Silverberg--it still will be some time before sex toy ads become as acceptable as Viagra commercials--"it's a marketing ploy, but it will give people permission to try something they want to try anyway."
Johnson & Johnson's KY re-launched its own brand with what it's calling "intimacy enhancing products for couples," including a topical female arousal gel "scientifically proven to enhance a woman's intimate satisfaction." "I look at it as the final frontier of the women's movement," says Dr. Laura Berman, a prominent TV sex and relationships therapist who incited a vibrator buying frenzy after appearing on "Oprah" with various devices. "Women now feel more entitled and free to explore their own sexual responses."
As sex toys become just another personal electronic device, our expectations of them and how they are used are bound to change. Imboden has been considering this scenario for years already, quietly developing technologies that he says will "fundamentally alter the way that we interact with these products." Imagine wearable sensors--embedded in clothing, or a bracelet--that operate according to heart rate, blood pressure and skin response. Imagine devices that communicate via a personal area network, connecting sexual partners in ways they don't even realize.
One afternoon at Jimmyjane's offices, Imboden told me that he believed the companies that will succeed in making sex toys are those that are forthright, trusted and accountable, like an intimate partner. He paused, then added -- "and give great orgasms" -- just before it became an afterthought.