An Important Scientific Development (Featuring a Photo of an Orangutan Playing With an iPad)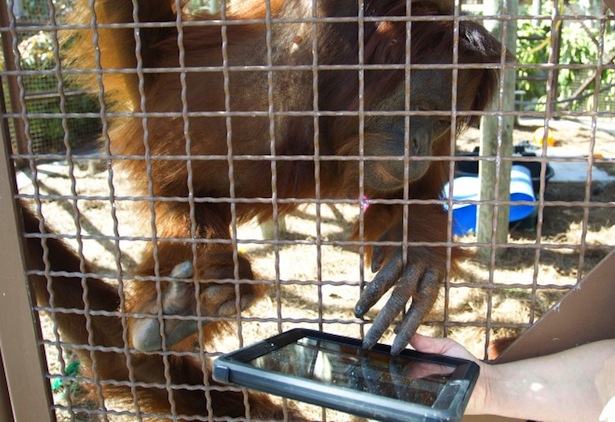 AP/J Pat Carter
Orangutans are highly intelligent. And while they don't speak, they boast impressive manual dexterity -- which has meant that they've been able to communicate with humans, in a limited but still meaningful way, using sign language.
It turns out, though, that there's another way to use your hands to communicate: using iPads. The Miami Zoo, inspired by similar efforts with dolphin communication, is experimenting with iPads as part of a communications and "mental stimulus" program with its orangutans.
The program would be fantastic if for no other reason than its production of the above picture of an orangutan playing with an iPad. But the kind of computer-assisted communication it's experimenting with could prove an important development -- for science, and for our ability to commune with our Darwinian kin. Tablets could serve as another kind of missing link. Linda Jacobs, who oversees the program, "hopes the devices will eventually help bridge the gap between humans and the endangered apes."