Aaron Sorkin's Scintillating Play About ... Intellectual Property Law
Sorkin's dad, it turns out, was an IP lawyer.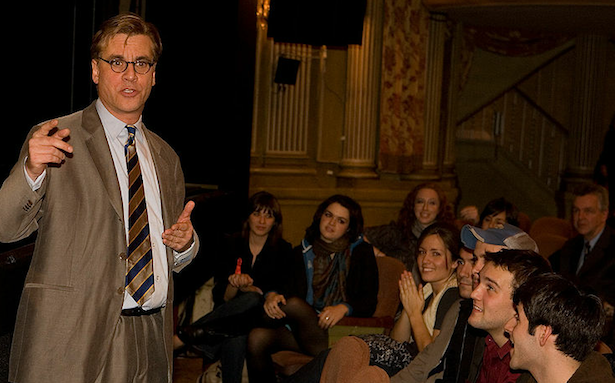 At the All Things Digital conference earlier today, legendary screen writer Aaron Sorkin sat down for a conversation with legendary tech writer Walt Mossberg. On the discussion agenda: The Social Network, Sorkin's upcoming Steve Jobs biopic, the challenges Sorkin is facing in writing said biopic, The West Wing, the dialogue of The West Wing, The Newsroom, Sorkin's writerly love affair with the "phonetic sound of intelligence," Sorkin's play about intellectual property law --
Wait, Aaron Sorkin wrote a play about intellectual property law?
He did indeed. It's called The Farnsworth Invention, and it's about the battles between inventor Philo Farnsworth and mogul David Sarnoff over who could lay claim to the television.
Sorkin's father, it turns out, was an IP lawyer. And "my knowledge about patents came entirely from him."
The show opened on Broadway in December 2007, starring Jimmi Simpson as Mr. Farnsworth and Hank Azaria as Mr. Sarnoff. And its script is, true to Sorkin form, only marginally historically accurate. (The play depicts Farnsworth being vanquished by Sarnoff -- when the real Farnsworth defeated his rival in court, receiving a $1 million payout from RCA for the purchase of his TV patents.) Today, one of the play's lasting legacies is this scathing review from The New York Times theater critic Ben Brantley:
You're likely to leave "The Farnsworth Invention" feeling that you have just watched an animated Wikipedia entry, fleshed out with the sort of anecdotal scenes that figure in "re-enactments" on E! channel documentaries and true-crime shows.
Wikipedia?! Crime shows?! America would love it.