A Scam I Can't Quite Figure Out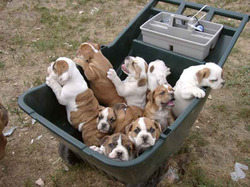 This is not exactly a page from the
Glamorous Life of a Journalist
chronicles. But it's similar in being a note sent to me in my capacity as guy who works at a magazine. The picture of baby bulldogs (from
here
) is my own bonus contribution, for your benefit in envisioning the email's offer. The original email was text-only and in its entirety said:
Hello,

I will like to place an advert about my puppies for adoption using the below details.

AD TEXT:  Family Pets M / F Akc Reg. English Bulldog & Terrier Yorkshires for adoption. Please email me at [xxxx]@yahoo.com contact asap if interested.


DURATION:2 weeks

Kindly get back to me with the total cost for the duration mentioned that's if you can run it for free. Once i read from you i will forward you my credit card details for the payment of the ad.

Regards,

The probability that this is legit seems very low. But what's the angle? Is it the first step in some Spanish Prisoner-style long con? Would merely replying to the mail address somehow compromise your computer? Or could this, against the odds, be what it purports to be, an innocent query from someone who loves little dogs? I may reveal the address later on if you want to take the next research step on your own.