Who Has the Right to Fly a Drone Above Your Head? Finally, There's a List
The government's use of drones in other countries has drawn scrutiny, but there are plenty of drones flying in American skies too.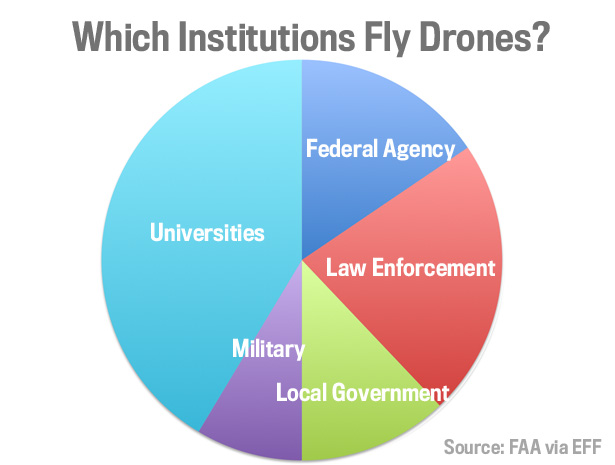 While the government's use of drones in other countries has drawn scrutiny, there are plenty of drones flying in American skies on behalf of the military, law enforcement, universities, and local governments.
Just how many drones are zipping around is not clear, but thanks to the Electronic Frontier Foundation's  Freedom of Information Act request with the Department of Transportation, at least we now know
which government agencies
can fly drones. There are 58 institutions in total, including both active and expired "certificates of authorization" from the Federal Aviation Administration. They range from DARPA to the city of Herrington, Kansas to the University of Alaska-Fairbanks. The
individual list
is interesting, but we thought the aggregated pie chart above made it easier to take in the data at a glance.
Perhaps most interesting is how many universities have applied for permits. Some may be working with military grant money. There are relatively few law enforcement agencies using drones, maybe because of the expense involved. Only 11 local law enforcement districts have tried out the technology: Arlington PD, Gadsden PD, Georgia Tech PD, Mesa County Sheriff's Office, Miami-Dade PD, Montgomery County Sheriff's Office, Ogden  Sheriff's Office, Polk County Sheriff's Office, and the Seattle PD.
Keep in mind, as the EFF points out, the number of certificates are not equal to the number of drones. So the military may have many, many drones flying while a city government might just have one. As they explain:
The COA list does not include any information on which model of drone or how many drones each entity flies. In a meeting with the FAA today, the agency confirmed that there were about 300 active COAs and that the agency has issued about 700-750 authorizations since the program began in 2006. As there are only about 60 entities on the COA list, this means that many of the entities, if not all of them, have multiple COAs (for example, an FAA representative today said that University of Colorado may have had as many as 100 different COAs over the last six years).

Not all drones are the same of course. These unmanned aerial vehicles have a variety of capabilities. Those abroad can be armed and lethal; one assumes the hardware used by the University of Colorado is decidedly less dangerous.