The Hacking Tyler, Texas, Project: Our Tribe Begins to Grow
After nearly a year, Hack Tyler is no longer a one-man show. Other fellow muckrakers are working to make this city better, and weirder too.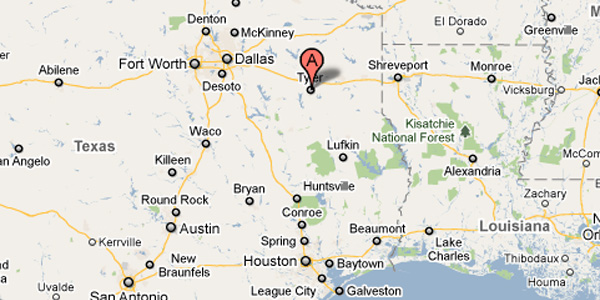 It has been almost a year since I made a big fuss about moving to Tyler and started on this crazy project of contorting the place to me and myself to it. This project has been fantastically successful. Sure, I've lost a few battles, but I've also genuinely come to enjoy living here. This is in large part due to the community of engaged and thoughtful people who've sought me out since I arrived. It has been a deeply rewarding experience to connect with so many other folks who are passionate about making Tyler a more inclusive and sustainable community.
In short, good friends make all the difference.
With that in mind, I'm happy to announce that Hack Tyler is no longer just me. An incredible group of local hackers and muckrakers (née engaged citizens) have banded together to think bigger and hack smarter. My friends here in Tyler wanted to pitch in and they have -- to great effect.
Today I'm thrilled to announce two new Hack Tyler projects:
TPA is a visual index of all public art on display in Tyler. It has a map. It has photos. It works on tablets and phones. You can take it with you and tour the city. We included graffiti because we're contrary like that.
This project benefited tremendously from the contributions of designer Justin Edwards and programmer Joseph McCullough.
Know of art we haven't found yet? Let us know!
(Want it for your city? It's all client-side and open source.)
MTW is a user-created directory of everything that makes Tyler unique. Inspired by the Keep Portland Weird and  Keep Austin Weird movements we aim to raise awareness of local businesses and culture and also to make it possible for those with niche interests (like programming) to find other locals with similar interests. It is based on the LocalWiki platform, which has been used to great effect in Davis, CA and, more recently, nearby Denton, TX.
MTW also provides a platform for us to centralize our efforts around theweird local issues we care about that don't get enough attention, such as recycling, poverty and safe, alternative transportation.
Many members of Hack Tyler have pitched in to start filling it with information, but I'd like to make special mention of Justin Edwards, who came up with the idea, and contributors  Justin Reese and Jacob Lindsey who have added excellent content.
Anyone can contribute to Make Tyler Weird!
* * *
If you are citizen of Tyler who cares about the issues I write about on this blog (or others that I don't write about, but you think I should), please join us! Although this group is very strongly focused on technology we want to hear from a variety of perspectives and are especially interested in engaging with local charities and non-profits. I would also like to make a special plea to any women or representatives of Tyler's minority communities to join in the conversation. This is a community where you can feel safe and your opinions will be respected.
Our mailing list is here. Please, lend us your expertise.
The mission of Hack Tyler has changed somewhat. I'm less concerned with government these days and more concerned with issues and culture, but I am no less excited. If anything I'm even more determined than I was one year ago.
Keep your hats on Tyler, we have only begun to hack.