The Green Building Code Bible Gets a Much-Needed Update
An update to the green building certification standards will encourage development oriented around public transit and walk-able communities.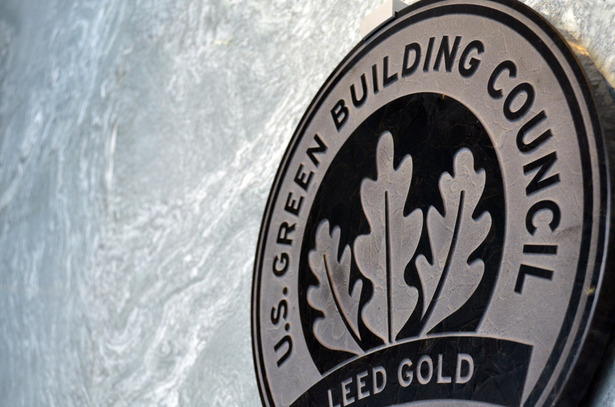 WASHINGTON - Most presentations on sustainable building design do not begin with a meditation on early human technology, replete with references to Shakespeare. But, then again, most senior executives at the U.S. Green Building Council do not have a background in opera.
At a presentation Thursday in Washington, Scot Horst, former opera singer and senior vice president of the Green Building Council's Leadership in Energy and Environmental Design, or LEED, praised the latest iteration of the green building certification system: LEED 2012.
Likening the principles of LEED to the hope and magic espoused in The Tempest, Horst used his penchant for storytelling to depict LEED as an instrument of engagement that brings architects, engineers and designers together, one that challenges them to think deeply about the environmental impact of their work.
"There's something in us that doesn't allow us to stay where we are," Horst said. "There is something that forces us to go out, to go further, to discover, to be better. That's what we're about. That's what LEED represents."
Originally developed by the Green Building Council in 2000, LEED is a voluntary rating system used to measure the sustainability and efficiency of a building's design, construction and use. The certification uses a point system to assess projects on a variety of criteria ranging from a building's water consumption to the types of materials used in its construction. Since its inception, more than 12,000 projects have been LEED certified.
LEED 2012 will build upon changes made three years ago -- in LEED 2009 -- and is scheduled to take effect later this year. The goal of the current revision, according to the program's website, is a simpler but more rigorous rating system that is applicable to a broader range of categories of buildings. Data centers, warehouses and distribution centers will be among the new building types certifiable under LEED 2012.
The updated system will also introduce a new credit category, "Location and Transportation," to encourage development oriented around public transit and walk-able communities.
"We're really after helping project teams be high performing in terms of selecting locations where you can have benefits from existing infrastructure," said Chrissy Macken, assistant project manager for LEED 2012.
The modifications are part of an effort to gradually move the benchmark for sustainable design beyond energy efficiency and towards "zero impact," buildings that have no negative affect on the environment, Horst said. "We're hoping we'll see a lot more net zero buildings in 2012 and we're quite sure that if the system passes ballot the way it is right now, then that will be the case," Horst said.
Bill Worthen, the American Institute of Architects' Resource Architect for Sustainability, views LEED 2012 as a more holistic measurement of building performance that better takes into account long term growth, public education and community involvement.
Worthen embraced the proposed changes as a step in the right direction, but voiced concern over the gap between the base requirements of regulatory building codes and aspirational goals.
"We wouldn't be here without LEED," Worthen said of the work LEED has done to raise the profile of green buildings. "[But] there is still a knowledge gap between standard practice and high performance design."
As more cities adopt building codes that implement sustainable principles, Worthen wonders what role LEED will play in a changing market.
"How LEED fits into the broader spectrum of high performance design and construction in a world where we have green codes, green standards and green rating systems, remains to be seen," Worthen said
The proposed changes are based on public comment and a LEED stakeholder feedback process that dates back to 2009. LEED 2012 will receive additional feedback and revisions throughout the coming months and is expected to be implemented in November 2012.
Horst closed the session with an anecdote. Last year he had the misfortune of twice being trapped in an elevator. The experience of waiting hours for someone to release him, Horst said, is not unlike the one we find ourselves in today.
"That feeling of waiting for someone to come save me just was this awful, dreadful, dreadful feeling," Horst said. "We don't have to live that way. We don't have to be like that. LEED is an instrument that we use to collectively get ourselves out of a situation that we've found ourselves in."
Image: David Unger.