Personal Tech for the 17th Century
Unlocking the secrets of Roger Williams's idiosyncratic shorthand script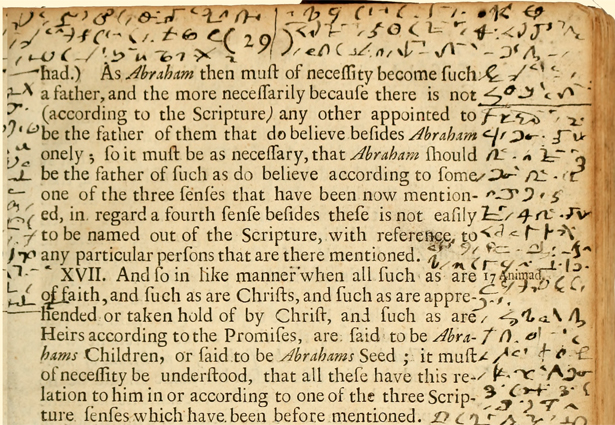 Doing history is not always like solving a puzzle. Sometimes it's about looking for something you're not sure exists or putting on a show, or simply reading and thinking. But for a group of Brown undergrads, doing history is literally about deciphering a 17th-century mystery.
The university's John Carter Brown Library has long held the "Roger Williams Mystery Book," a book that purportedly belonged to Roger Williams, the radical religious thinker and founder of Rhode Island. The book is missing its title page and thus has little identifying information (besides a subtitle, "An Essay Concerning the Reconciling of Differences among Christians") -- but it's covered with extensive shorthand marginalia suspected to have been written by Williams himself sometime in the mid 1600s. The students, who include history and math majors, are using this semester to decipher the writing and to determine whether or not the shorthand handwriting was Williams's hand.
Shorthand has quite a long history, but it gained popularity in early modern Europe (Samuel Pepys wrote most of his diary in shorthand) and grew even more popular through the 19th century as office culture took off and sped up. Most shorthand systems use symbols for sounds, words, syllables, and phrases -- but there were many competing systems. Roger Williams had served as a law clerk as a teenager in England in the 1620s and was thus familiar with a number of shorthand systems. But shorthand could also be idiosyncratic. "At the end of the day, this is a proprietary, improvised scheme that wasn't meant to communicate anything to anybody else," said Lucas Mason-Brown, one of the students, in a library blog post in February.
When the students started planning the project last winter, no one was sure what the results would be or how long it would take to decipher the shorthand. Luckily, the writer of the shorthand wrote some words in longhand, such as "Zwingli," "Utrecht," and "Virginia," and the students were quickly able to identify three sections of shorthand writing in the book: a geographical text, a medical text, and some original notes. In March, through research with early modern books and manuscripts, they were able to confirm the shorthand as definitely written by Roger Williams. Through further research at Brown's libraries, the students were able to identify the first source text, Peter Heylyn's Cosmographie in Four Books: Containing the Chorographie and Historie of the Whole World, and All the Principal Kingdoms, Provinces, Seas and Illes thereof (1652), a geographical treatise describing the known world. Williams might have transcribed it to use as a scholarly reference. It is not an exact copy, of course: Williams "distilled the contents of a 1,000-page book into notes covering the margins of a 200-page book."
What's next? Since they've identified a source text, the students plan to use Heylyn as a key to help them decipher more of Williams's shorthand, with an eye toward understanding the 20-page section of possible original notes. Solving the historical puzzle -- cracking the code -- is only the beginning. Now the students have to address the reasons why Williams would have transcribed specific books in shorthand in the margins of his theological library. And people, past or present, are more complicated than any system of shorthand.
Via @lubar