Per the Latest Pew Study, the Most Social Way to Read Is Still in Print
A notable finding from today's big Pew study on Americans' ever-more-digitally-driven reading habits: While people prefer the e-book format for individual reading experiences -- reading while commuting, getting quick access to a book they want to read, etc. -- they prefer print books for more social activities like reading to kids and sharing books with friends.
And they do the preferring with huge, er, margins: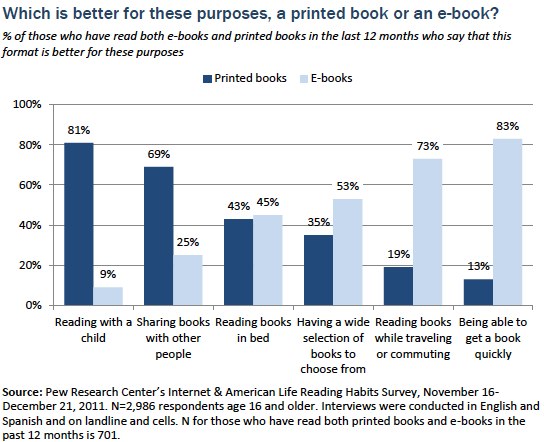 On the one hand, those stats are to be expected: Parents, to take the chart's biggest print-digital discrepancy, are likely driven by their own fond memories of being read stories from print books (not to mention by a healthy wariness of parenting-by-screen). And the general sharing of e-books, to take the adjacent comparison, is likely constrained in part by the fact that e-readers aren't anywhere near ubiquitous: You won't share a digital book, obviously, with a friend who doesn't have a Kindle. One clear benefit of the analog book is that it is its own reading device.
Still. Even considering those caveats, the disparity between print and digital here is striking. Despite e-reading platforms' emphasis on the social capabilities of pixellated consumption -- collaborative marginalia, the ability to broadcast what you're reading to your friends on Facebook, the belief that, overall, there's a community in every book -- it seems that, for the vast majority of Americans, sharing is still very much an analog thing. Pew's findings are a nice reminder that books' dynamism comes from the people who share the books, rather than the platforms that help with the sharing.