Ignorify Wants to Help You Avoid the Physical World So You Can Keep Playing 'Angry Birds' in Peace
You're walking down the street, texting, listening to some music ... and, without realizing it, you step into oncoming traffic. Or a fire hydrant. Or another person.
The perils of distracted driving may be many, but so are the ones associated with distracted walking. Ignorify -- acknowledging that "there's no real reason to be bothered by our actual surroundings any longer" -- is an app that wants to provide a solution. Specifically, by alerting texters and Instagrammers and 'Angry Birds'-players to the physical objects (poles, potholes, dogs) that might impede their meanderings.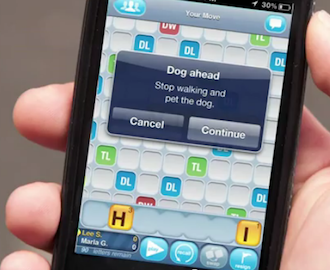 "My new app," says the product's inventor in the video above, "is something that solves an age-old problem and an annoyance for all of us in the tech industry: the real world."
Indeed, sir. Indeed.
The new app is (clearly ... and maybe just a little bit unfortunately?) a joke. But it's a good one. Especially when you consider this extra bit of irony: There are actual apps out there that do pretty much what Ignorify is only pretending to.