3.8 Million Records From the 1940 Census Go Live Online
The National Archives has digitized and published online the 72-year-old records of more than 130 million Americans, but finding your family will require a bit of legwork.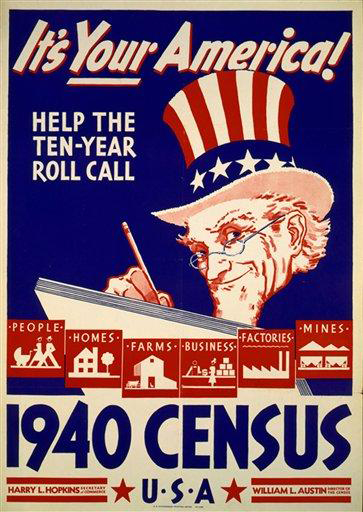 This morning the National Archives unveiled an ambitious three-year project to provide complete online access to the 1940 census -- the census edition that details America during the Great Depression. This is the first census to be made fully and freely available over the web.
During World War II, the Bureau of the Census took the 1940 census and put it all on microfilm, where it has remained for the last 72 years -- the duration of a legal waiting period that has just officially come to its end. Over the last three years, staffers at the National Archives have taken those microfilm strips, scanned them, and split the long scans into individual images, more than 3.8 million of them, representing 131,669,275 in the continental U.S. and another 2.5 million in U.S. territories including Alaska and Hawaii.
For those who want to track down their parents, grandparents, and other family members from that era, you'll need a bit more than their names, unfortunately. For the time being, the census is only searchable by "enumeration district numbers" -- small geographical units that structure the organization's paperwork. If you know an address where your family lived, you'll be able to find the enumeration district on the National Archives website or on this great index site created by Steve Morse.
For those with only a name, you'll need to hang tight for now. The National Archives is asking for volunteers to help index the census to be searchable by names and other bits of information, but that is still a ways off.
Update 5:10 pm: If you've experienced some troubles accessing the site, this may be why:
Since 9 a.m., we've had 37 million hits to the #1940Census site. We're continuing to work on the web siteand will update here.

— National Archives(@archivesnews) April 2, 2012