These Are the Eagle Talons that Neanderthals Might Have Worn as Jewelry
Even if science can never prove it definitively, we choose to believe this hypothesis.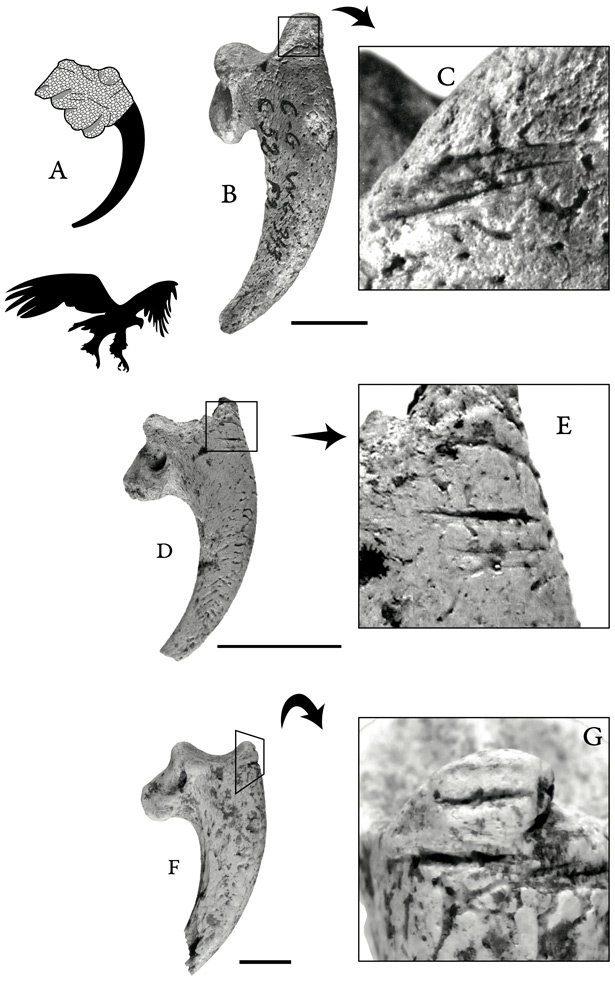 A new paper in PLoS one posits an awesome historical hypothesis: that Neanderthals wore eagle talons as a kind of jewelry. Here's the evidence. The researchers found precise marks at the top of an eagle talon that were consistent with cutting the claw out of its natural sheath. Then, they looked at talons at three other known Neanderthal sites and found similar marks, but *only* on the eagle talons. Given the multiple sites and the fact that they were occupied at different times over a 65,000-year period, the researchers say "it seems reasonable to argue that Neanderthals in France and Italy regularly used terminal phalanges of birds of prey." But to what end? Well, we can't be sure, but perhaps as jewelry or ornamentation, they argue:

Although the sample size is small, the fact that all the terminal phalanges that show cutmarks are from eagles argues against their utilization in strictly non-symbolic contexts. This last pattern is noteworthy because eagles are among the rarest birds in the environment, a pattern explained by their high trophic position in the food web. This bias toward large and powerful diurnal raptors possibly indicates that the claws were used in symbolically-oriented contexts by Neanderthals, although the latter contexts remain to be more precisely defined. One possibility is that they were used as ornaments...
Now, departing from the science, can I just say that if I ever write a children's book featuring a Neanderthal king, he will be wearing one awesomely gauche eagle talon around his neck.
Image Key: A) example of a fully fleshed golden eagle digit. B-G show cutmarked terminal phalanges from layer 52 at Combe-Grenal (B-C, golden eagle) and layers Jbase (D-E, white-tailed eagle) and I/J (F-G, white-tailed eagle) at Les Fieux.
Via Carl Zimmer. Zimmer, Carl. (@carlzimmer). "Did Neanderthals wear eagle claws as jewelry? You know you want the answer to be yes. http://t.co/YRBffdF5" 05 March 2012. Tweet.