The Urban Dictionary of 1811, Now Served to You Tweet by Tweet
Don't be a footy fellow and use this plummy twitter feed to brush up on your old-fashioned banter.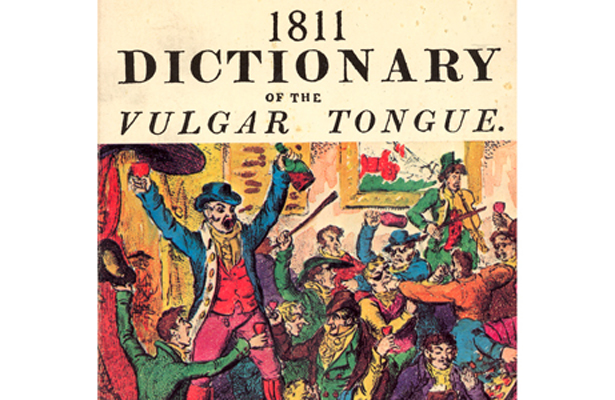 Who doesn't love a good old-fashioned insult? With jabs like "beetle-headed" and "royster" in your armory ("dull, stupid" and "a rude, boisterous fellow," respectively), you can rib your pals with a touch of originality. Or, perhaps you'd like to spare your friends, but are interested in adding some 19th-century flavor to your drinking habits, and could use phrases like "pot valiant," meaning "courageous from drink," or to "sluice your gob," which means to imbibe heartily.
One delightful little source for such fun with archaisms is the 1811 edition of Francis Grose's Dictionary of the Vulgar Tongue -- more or less the Urban Dictionary of turn-of-the-19th-century England -- which has been available for free download on Project Gutenberg for about a decade now. It contains an abundance of once-current terms for all things bawdy, alcohol-infused, and foolish. (Many, many of the words -- e.g. "plug tail," "arbor vitae," and "pego" -- are stand-ins for a certain feature of the male anatomy.) But treasure trove though this may be, a long list of unknown words is not easy to digest. Dictionaries are best for looking things up, not straight reading, but when would you ever have occasion to just look up a phrase like "plump currant"?*
This problem is solved by a new Twitter feed of the work, @vulgar_tongue, which is sending the dictionary's entries into the twitter stream, bit by bit.
Not all the turns of phrase will come in handy,
NAPPER OF NAPS. A sheep stealer.

-- The Vulgar Tongue (@vulgar_tongue) March 25, 2012
but a few just may:
GUTFOUNDERED. Exceeding hungry.

-- The Vulgar Tongue (@vulgar_tongue) March 27, 2012
MESSMATE. One who eats at the same mess, companion or comrade.

-- The Vulgar Tongue (@vulgar_tongue) March 26, 2012
*Plump currant, for the curious, is defined as such: "I am not plump currant; I am out of sorts."