The Best Patent Rejection You'll Ever See (Featuring Borat)
The moral of the story is that patent examiners also think Sacha Baron Cohen is hilarious.
It is not often that United States Patent and Trademark Office makes a funny. The understaffed and oft-maligned agency is tasked with helping inventors capture the value that they create while stopping copycats and other parasites from patenting things that already exist. They are not known for a sense of humor in pursuing this thankless, impossible assignment.
Which brings us to this patent application for a "scrotal support garment," first filed in February of 2008 by Donald Quinn of Bristol, TN. (And one of many such garments for which patents have been filed.)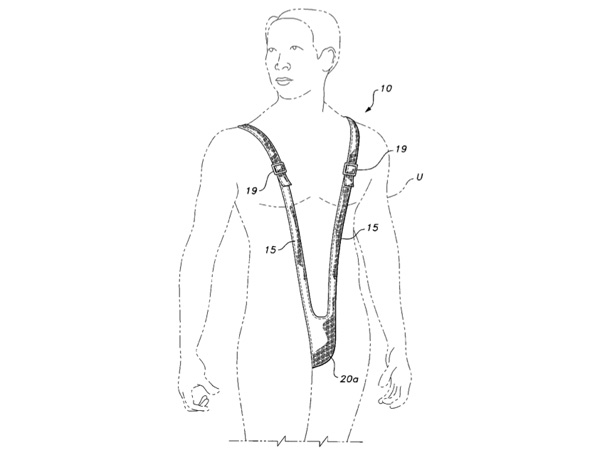 If you are a big fan of Sacha Baron Cohen, you may recognize the form of this suit from the 2006 movie,
Borat
, which featured Cohen cavorting in a similar outfit near the beginning of the movie. Well, according to
Stewart Walsh at IPWatchdog
, a patent examiner recognized the garment, too, and rejected Quinn's application on the basis that the garment already existed. The examiner even included an annotated still of Cohen wearing the swimsuit in the rejection letter.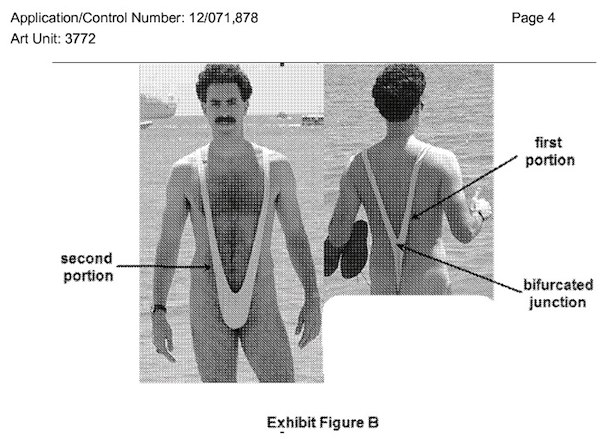 "Bifurcated junction" has never and will never be funnier than in this context.
Walsh used this example as a jumping off point to discuss how patent examiners could use evidence from outside the patent literature. "An invention cannot be patented if there has been a public disclosure of said invention prior to the date of filing," Walsh explains. "This application for a scrotal support garment serves as a great example of rejection through non-patent literature. When you apply for a patent, the examiner can use any information available to the public to reject your application - not just patents. In this case... a picture of Borat."
It's worth noting that this is not only coming up in silly patent cases. Part of Samsung's recent response to an Apple patent suit over the iPad was to argue that Stanley Kubrick's
2001: A Space Odyssey
prefigured Apple's tablet.
"The moral of the story is this," Walsh concludes, "prior art comes from strange places sometimes." Strange places such as the bifurcated junction on Borat's swimsuit.