Science Non-Fiction: Rise of the Cyborg Snails
Could the common brown garden snail you see slinking along the sidewalk actually be a military spy? Maybe some day.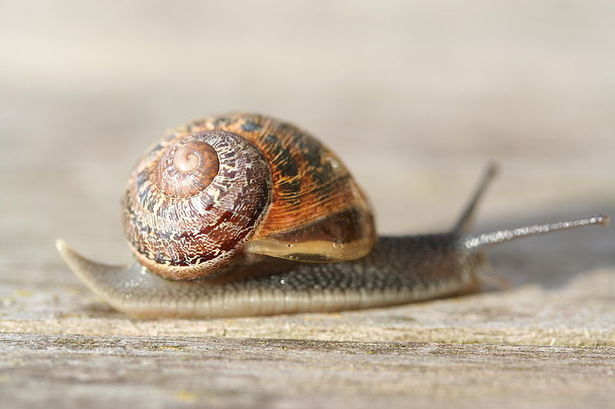 Could the common brown garden snail you see slinking along the sidewalk actually be a military spy? Not yet, but such a possibility isn't far off in the making: Scientists are working on building "cyborg snails" that will be able to gather and transmit environmental and military intelligence back to humans on a base.
But the catch has been powering the data collection and transmission without encumbering the little buggers with battery packs. New research published in the Journal of the American Chemical Society points to a solution: Evgeny Katz and his team at Clarkson University have implanted snails with biofuel cells that can extract electricity from glucose and oxygen in the snails' blood, Richard Van Noorden reports in Nature.
The technology essentially turns the little critters into living batteries with the capacity to provide power at a more or less steady rate over a period of months. "The truly impressive portion of [Katz's] work is that the implantation provides such stable potential for such a long period of time," says Shelley Minteer, a biofuel-cell researcher at the University of Utah told Van Noorden.
Snails are not the first animals to become unwitting generators. Other teams have 'electrified' cockroaches and beetles. Katz's team is moving on to lobsters next. The efforts, Van Noorden writes, have "attracted funding from the US Department of Defense," who hope to use the cyborg bugs as, well, bugs for collecting intelligence. Other research with surgically implanted fuel cells has had different aims, such as powering medical devices (e.g. pacemakers and defibrillators) without batteries that have to be periodically replaced.
There is a long history of the military using animals as spies. Pigeons equipped with cameras flew over enemy lines snapping up pictures during both World Wars. Dolphins have been a part of naval intelligence for more than 40 years, trained to detect mines and other suspicious objects. And of course, specially trained dogs have been put to use sniffing for bombs for decades. But none of these has undergone the sort of direct physiological manipulation of fuel-cell implantation, making the animals the technology itself, not just its bearer.
Image: Wikimedia Commons.