New, Devastating Digital Artifacts From the Aftermath of the Titanic's Voyage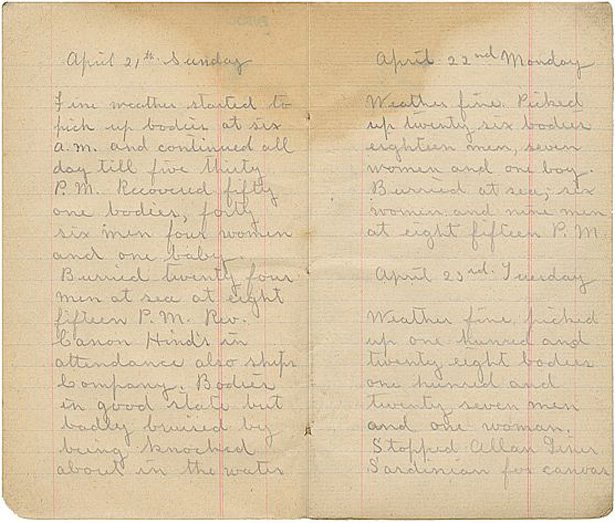 In the days after the Titanic sunk almost 100 years ago, a young mechanic named Cliff Crease was dispatched from Nova Scotia along with his crewmates on the CS Mackay Bennett to complete a grisly task. They had to retrieve the bodies floating in the Atlantic. Crease recorded the voyage in a slim little journal that was recently digitized by the Nova Scotia Archives.
Crease was no poet and he did not attempt to elevate his language to match the task of describing the tragedy. He wrote plainly, recording the weather and the number of bodies they picked up and their need for more canvas in which to roll the bodies. His short entries are like woodcuts of the experience, describing the exact inverse of what must have been printed on his mind. He would forget the numbers and the weather, but he'd probably never forget the feeling of hoisting body after body from the sea for eleven and a half hours.
April 21:
Fine weather started to
pick up bodies at six
a.m. and continued all
day till five thirty
P.M. Recovered fifty
one bodies, forty
six men four women
and one baby.
  Burried twenty four
men at sea at eight
fifteen P.M. Rev
Canon Hinds in
attendance also Ships
Company. Bodies
in good state but
badly bruised by
being knocked
about in the water.

Somehow April 23 hits me even harder, maybe because of the hanging 'canvas':
Weather fine picked
up one hundred and
twenty eight bodies
one hundred and
twenty seven men
and one woman.
Stopped Allan Liner
Sardinian for canvas

Artifacts like these aren't the most important things about the sinking of the Titanic. They don't tell you what the captain might have done or about maritime technology or even about the people who died. Crease is a peripheral figure if ever there was one. But his journal is the record of a regular person encountering the unfathomable and it feels like a kind of concentrate that we can rehydrate and swallow to remember all those unnamed who were also a part of history.