E-Yenta: This Facebook App Wants to Find You a Find, Catch You a Catch
A new app wants to provide "an intelligent matching layer" on top of Facebook's social graph.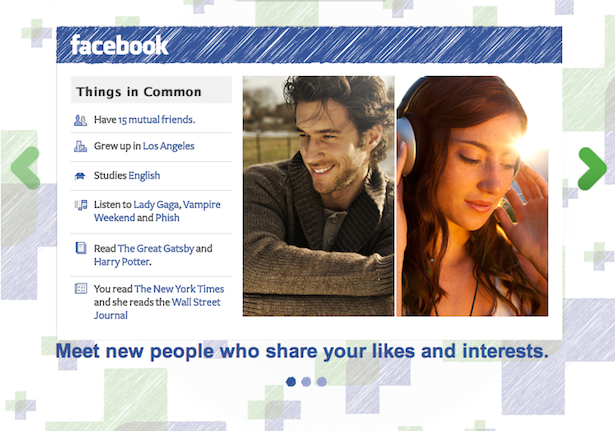 Here's a question about dating websites: Why are they websites? Why aren't they apps, layered neatly and efficiently on top of their users' existing social identities? Given how much of our lives are now lived online, why isn't dating more seamlessly integrated into our broader experiences of the social web?
The most obvious answer is that the sites we think of when we think of online dating -- Match.com, OKCupid, JDate, eHarmony, etc. -- built themselves as independent businesses. And that they did so before Facebook became the social-graph-owning juggernaut it is today. Another answer is that there's an appeal, to many users, to keeping one's dating life separate from one's broader social life. For purposes of privacy or safety or whatever else, perhaps "prismatic identity" applies to dating just as it applies to the rest of our digital experience. So, while web-based matchmaking has long ago lost its stigma, the dating industrial complex still operates on a common assumption: Friends (and family, and colleagues) are here; dating is there.
A new app wants to change all that. Yoke, the creation of Rob Fishman, former social media editor at the Huffington Post, and Jeff Revesz, the HuffPo's former director of social news tech, is an "an intelligent matching layer" that sits on top of Facebook. Yoke integrates one's dating life and one's broader social life not in a "Hey, colleagues, I just met this dude on Facebook!" kind of way, but in a way that tries to make online dating much more like the dating that takes place outside of the Internet: connections made not via profiles and photos and complex matching algorithms, but through the serendipity of shared friends and interests. The app, Fishman tells me, is trying to approximate dating as it's done in real life -- and "real life" increasingly involves Facebook. There's an efficiency aspect to that thinking, as well: Yoke assumes that most people who are looking to date would actually rather have those dates served up on the site they spend so much of their time on anyway.
So rather than asking users to create yet another new dating profile (piña coladas! getting caught in the rain!), Yoke uses the huge amounts of data those users have already provided, automatically, just by being on Facebook. The app analyzes users' social graphs to determine shared friends and friends-of-friends. (It also provides a mechanism that lets those mutual friends make the first contact between matches on Facebook -- so that "if you're not in the market," Slate's Jacob Weisberg puts it, "you can yenta your single friends.") Yoke crunches data from the APIs of Netflix, The Echo Nest, and Amazon, as well, to determine common interests when it comes to movies, TV, music, and other purchases. It's a system that works, for the user, in a similar way to Facebook's news feed, Fishman notes. Except "instead of recommending news to people, we're recommending people to people."
What makes the app's concept of matchmaking especially intriguing is the same thing that makes Facebook's own concept of matchmaking especially intriguing: the particular mix of agency and passivity it assumes on the part of its users. Yoke's main pitch is that it's doing the work usually required by stand-alone matchmaking sites -- the profile-writing, the curated lists of interests and goals -- for its users, seamlessly. The users have already expressed their identities and interests on Facebook's platform; Yoke is simply, as its name suggests, harnessing that information and putting it to connective use. "We're mostly just showing you public Facebook data and sorting it for you in an intelligible way," Fishman says.
But then: How, given all the data, do you actually do the sorting? How do you determine what will make for good matches? Do you assume that people with similar interests will be good fits, or is it better to connect people with different (but complementary) hobbies and likes? Is it better to match a pair who both love Vampire Weekend, or will more sparks fly if you match up fans of Fiona Apple with fans of Megadeath? (Just, you know, for example?)
Yoke currently assumes that commonality makes for the best connections, Fishman says, but that assumption is subject to change as the app learns -- just like OKCupid is learning -- which factors lead people to reach out to each other. (And those factors can lead to platonic connections, too; there's an "in a relationship" designation users can click at registration if they're interested only in Facebook-based friend-finding.) Meanwhile, though, Yoke hints at what the future of online matchmaking might look like -- a future in which one's fuller identity becomes the platform for dating connections. Though standalone sites have been the norm thus far, there's a "silent majority" of Facebook users, Fishman believes, who want a more integrated, normalized, and efficient experience of connection -- users who might well prefer the ease and familiarity of Facebook to the growing group of various (and potentially untrustworthy) dating sites.

Yoke isn't the first Facebook-based dating app, but it might be the first one that's a keeper.