The Steve Jobs 'Reality Distortion Field' Even Makes It Into His FBI File
The late Apple leader's 1991 FBI file is now part of the public record.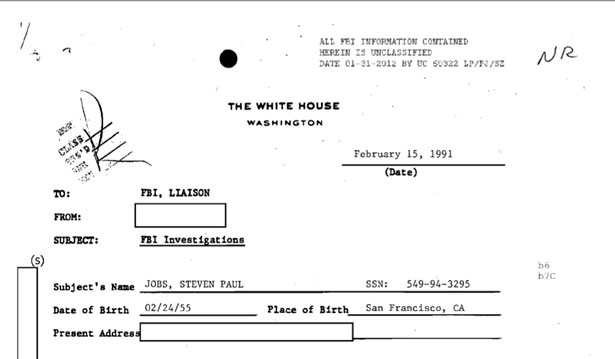 When Steve Jobs was up for an appointment to the President's Export Council in 1991, the Federal Bureau of Investigation did what it does for all such appointments and went looking for dirt.
They want to know if you'll sell out the government, if given the opportunity. So they ask a lot of questions about the life and values of a prospective appointee.
The FBI conducts these background checks by going around and interviewing people who one has associated with. Did Steve Jobs live beyond his means? Has he done drugs or alcohol?
Did he have any deep, dark secrets?
What people say goes into a file, and Steve Jobs's (heavily redacted) file has just been released by the FBI. Cruising through its 191 pages, we find most of the biographical detail that we've come to expect. Jobs comes across as a reputable guy, but it's clear that if you did business with him, he would cut you.
One thing that stood out to me is that Jobs' so-called "reality distortion field" makes an appearance in the file. Steve Jobs ability to bend his teams to his chosen reality has been noted as far back as 1981, when Bud Tribble coined the phrase. In more recent years, the term was used to describe the way Jobs seemed able to effortlessly gin up attention and excitement about Apple's products. And now we know it will forever enshrined in the government's official repository of knowledge about the man.