The Spectacle of Electric Light When There Is None Around
An image of a well-lit portrait of Kim Il Sung in a dark Pyongyang is a stunning lens into what the arrival of electric light on American soil might have felt like.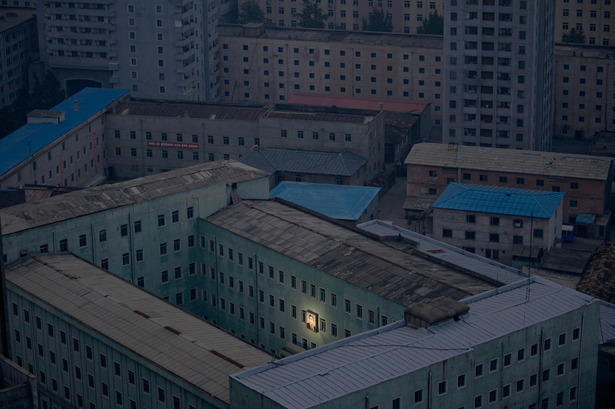 Ubiquitous technologies never seem miraculous. Who could possibly be impressed with a car or a light bulb? Yet we know that people once were. A book we talk about a lot around here, David Nye's American Technological Sublime details the way that light blew people's minds when it began to arrive on the scene in the late 19th century.
"Dramatic demonstrations of arc lights began in the late 1870s and seemed to offer visible proof of coming changes. The Brooklyn Bridge or a skyscraper, when studded with electric lights, took on an entirely new appearance," Nye wrote. "As these changes filled the urban night, a shimmering new world came into being. The electrified urban landscape emerged as another avatar of the sublime."
A technology that, for Americans, allowed a particular kind of mediated sublimity takes on a different cast in this photograph, which I plucked from Alan Taylor's spectacular collection of images from the World Press Photo Contest. It shows an area of Pyongyang without a single electric light except that used to illuminate a portrait of Kim ll Sung, North Korea's founder.
We're so immersed in electric light at all times; this photograph may be the closest that I can get to thinking about what early Americans might have thought of lighting demonstrations at government and corporate buildings. The technology, in its specific association with power, seems to infuse it with a kind of other-worldliness. Such a demonstration has been impossible in the United States for decades and decades, but its effect is still visible in this photograph. Light and power go perfectly together when everything else is dark.
Image: AP Photo/Damir Sagolj, Reuters