The Google Map of the 19th Century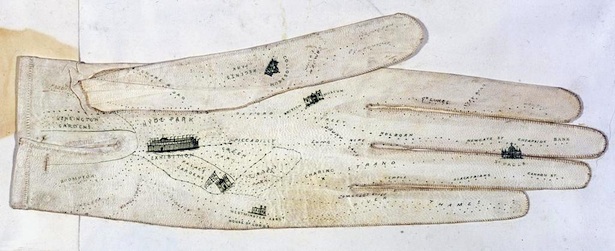 It seems like the quintessentially contemporary phenomenon: the pedestrian, walking along, distracted from his surroundings by the glow of the map in his smartphone.
But there have been some oblivious palm-gazers, it turns out, since long before Steve Jobs came along. In London, during the Great Exhibition of 1851, the merchant George Shove designed a ladylike accessory that would allow its wearer to navigate, discreetly and easily, the fair's Hyde Park environs.
The proto-mobile map! Subtle and delightful! As Harvard's John Overholt put it, the map-in-the-hand is basically "a 19th century PalmPilot."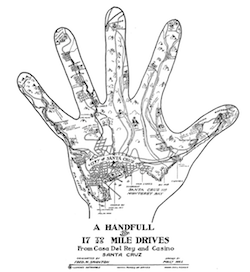 Alas -- for both ladies of London and for fans of quirky tech -- "as far as we know, the glove was never produced commercially," notes the UK National Archives's Andrew Janes. The example above survives only because Shove chose to protect his design by registering it with the government, which required the submission of a "representation" of its appearance.
The "handy map" idea lived on, though: In the early 20th century, some especially sprawl-y cities began to publicize their geographical wonders with maps that were, wittily and a little bit weirdly, drawn on hands. One of these: California's "Handfull of 17 to 25 Mile Drives From Casa Del Rey and Casino Santa Cruz." Because it's Santa Cruz, and why not? And because what are hands meant for if not conveying information?
Images: The UK National Archives.