Surprise! Teens Care More About Online Privacy Than You Think
Teens and adults have pretty much the same habits when it comes to ensuring their privacy in the world of social media.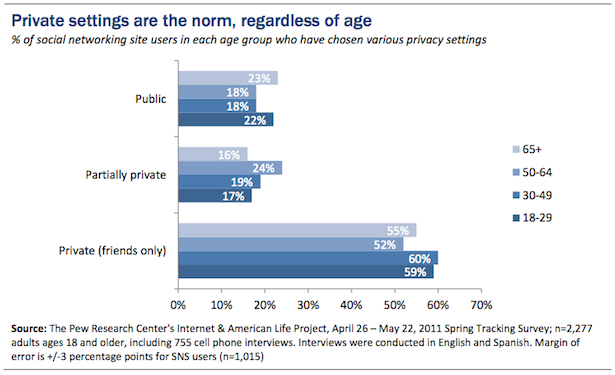 Oh, the youths. So audacious, with all their Tweetering and Facebooking. Don't they care how they're presenting themselves to the entire rest of the world? Aren't they concerned about all the harm that can come from a life of digital promiscuity?
The conventional wisdom -- even though that wisdom has been disproven time and again -- holds that young people simply aren't concerned about online privacy. They are reckless. They are feckless. And that's because they are not only youths, who as a cohort have always been seen by adults to be rash in their actions, but also digital natives: happy denizens of a Zuckerworld in which sharing -- uninhibited, arbitrary sharing -- is the norm.
Today, however, brings yet more evidence to contradict all those assumptions. Pew's Internet and American Life Project has found that teens are actually as concerned about online privacy as their parents, with social network privacy patterns that are strikingly similar to those of adults.
The findings, part of a broader report that explores privacy management on social media sites, suggest that Internet users of all ages are akin to each other when it comes to the way they manage their social media privacy settings.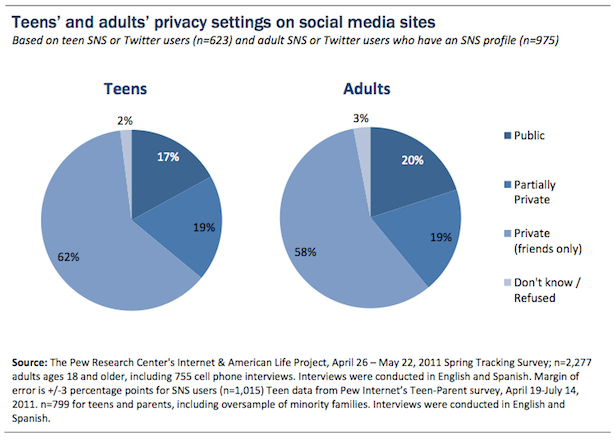 The breakdowns above are, it's worth noting, almost identical -- and, it's also worth noting, pretty much within the study's margin of error. As the report's author, Mary Madden, notes, "younger users have long been the most active users of the sites and the most active managers of their online reputations. However, when it comes to basic privacy settings, users of all ages are equally likely to choose a private, semi‐private or public setting for their profile. There are no significant variations across age groups."
No significant variations across age groups. Just another entry in our ongoing series: Kids Are Not As Dumb About the Online World As You Assume.
Image: Pew Internet and American Life Project.