Meet the Pringles of Personal Hygiene
Pitched on Kickstarter: the death of the wretched Soap Sliver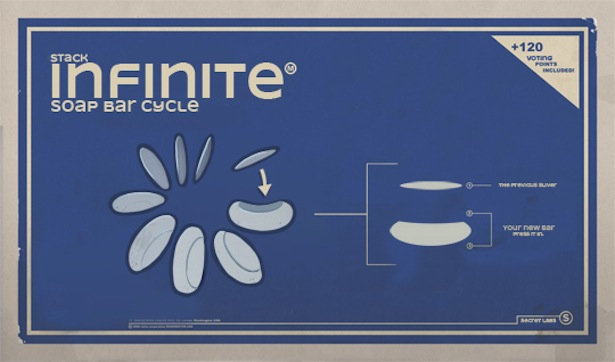 There is a scourge among us, and it lives in the shower.
The Soap Sliver: that strip, composed of sodium stearate and evil, that sticks, insistently, to all surfaces that aren't your hands. Though the wretched thing, denuded and desiccated, technically -- technically -- is a bar of soap ... soap, in any practical sense, it is not.
But: soapocalypse prevented! Maybe! New on Kickstarter is a pitch for Stack, the soap that ... well, you get it. It's the genius Pringles design, applied to shower time. Each bar of Stack has a Soap Sliver-shaped groove at the top, allowing shower-ers (and, hey, bath-takers and hand-washers and what have you) to combine each sliver with the new bar. After a few uses, the idea goes, the old and the new will merge together into one glorious, soap-saving unit.
"I call this the 'infinite cycle of soap,'" Aric Norine, Stack's inventor, says. He explains:
In 2007 I married a germaphobe -- a frugal germaphobe who uses 3x the soap of a normal person and refuses to waste anything. It seemed almost every time I grabbed the soap, it had been worn down to a sliver by my lovely wife. Seeing this as a challenge, I set out to create a bar soap that could integrate pieces together. Stack soap is my way to eliminate the soap sliver ... and save my marriage.
Here's Stack in action:
This is genius for several reasons, the most obvious of which is Stack's implied demise of the Soap Sliver. But, from a tech perspective, the Pringley design is a nice reminder of how utterly simple a new technology can be. Norine is pitching, in his product, not just "spa quality skin care" and "an all-vegetable base infused with jojoba oil to moisturize and protect sensitive skin"; he's also, and ultimately, pitching a design innovation. He's pitching a groove. A groove that's a force for good.
Image: Kickstarter.