Know Your Internet: What Is Pinterest and Why Should I Care?
On the cold, crowded beach that is the Internet, another monster wave has been spotted on the horizon. This wave is called Pinterest and it looks like it could be -- or already is -- the Next Big Thing in social media. This week, Techcrunch blared, "Pinterest Reaches 10 Million U.S. Monthly Uniques Faster Than Any Standalone Site Ever," based on Comscore data. Last week, a study was making the rounds that claimed to show that Pinterest was driving more referral traffic than Google+.
We're getting to that point with Pinterest where (in tech circles at least) it feels awkward to ask what it is even if you're not exactly sure. This is your quick guide to the site.
What is Pinterest?

Pinterest is a social network currently in a loose invitation-only beta. It fits into the category of  "visual bookmarking." Like Tumblr (or Ye Olde Delicious), the service uses a browser bookmarklet, which makes it easy to post things from around the Interwebs. Pinterest's user gimmick/interface is that it lets you "pin" any photo from the Internet to a "board" on its site.

Why should I care about Pinterest?

Pinterest has broken out of the pack of new social networks to become a formidable source of traffic, particularly to retail sites. It has a very slick user interface and strong revenue model. And the site has a fascinating demographic breakdown: it's strongest among young women in the center of the country.
The genius of the UI is that when you hit the "Pin It" button, it pulls out all the images on the page you're visiting, allowing you to select just the right one. Using individual photos instead of the whole URLs means that Pinterest's boards end up slick and aesthetically appealing. Below, you will find a typical board, in this case, my homage to the French Press cozy, an accessory so bourgeois that it is battling the French aristocracy to enshrine capitalism at the heart of society. Also, they keep expensive coffee delightfully warm!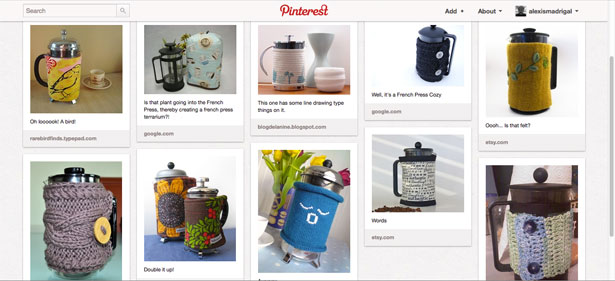 On Pinterest, anyone can "repin" one of my photos to one of their own boards. This is similar to the Tumblr reblog or Twitter retweet both in that it makes content virally contagious AND that it serves as a system-wide metric for what's hot. The most repinned things go to the site-wide Pinterest topic pages, which drives a lot of traffic to the original pinners of those photos.
What do people post on Pinterest?
Pinterest isn't like Reddit, which is a mix of news and community-created weird stuff. People rarely post content created by the media at all. Instead, people post links to retail sites. They curate vast selections of goods that they want to think about purchasing. I've found it's actually ridiculously helpful for planning wedding "details" because you can quickly accumulate a bunch of examples of things of a type.
But just so you can get the flavor of the place, here are the hottest five things on the site:
1)
A photographic triptych of couples holding hands.
One photo shows kids, the other mid-20s hipsters, and the last old people. Marry bee posted the image in the "Dreams and Wishes" category.
2)
Roasted banana cupcakes with mascarpone cream cheese frosting.
OMG, cupcakes! No, seriously. Jessie Partridge pinned the image to the "Eat your cake too" board.
3)
A fancy light from Ochre.net.
It's a pretty hanging lamp posted by Rachel Mueller onto her "house ideas" board.
4)
A nice sea foam green bathroom.
Dawn Richmond posted this onto her board, "Bath Inspiration."
5)
More cupcakes.
Courtesy of Bentley Hulshof.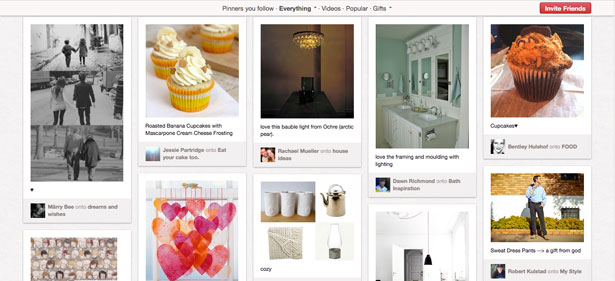 Who uses Pinterest?
This may be the most interesting thing about Pinterest. Though hard data is difficult to find, it appears to be dominated by younger women. My strolls through the site's content have found the ratio to be at least 5:1, which
Google Ad Planner data
seems to support. In particular, Pinterest appears to be especially strong among women 18-34 living in households with incomes between $25,000 and $75,000 per year. This makes Pinterest a reverse image of the coastal, male-dominated social networks like Reddit.
Who runs Pinterest?

Pinterest was
co-founded by Ben Silberman, Paul Sciarra, and Evan Sharp
, who are press shy and relatively unknown. They now have financial backing from
a bunch of Silicon Valley types
and are headquartered in Palo Alto, California. Their latest round of venture financing came to
$27 million and was led by heavy-hitters Andreessen Horowitz
.

How does Pinterest make money?

Here's another interesting aspect of Pinterest's game. Unlike other social networks, which waited years to monetize through advertising, Pinterest has taken a different route. They're monetizing already by taking a cut on sales that pins on their site help generate. They
partnered with a firm called SkimLinks
, which automatically scans through every link posted on the site to see if it goes to a retail site with an affiliate program. If it finds that kind of link, it secretly adds an affiliate code that ensures Pinterest will make some cash from sales that derive from that link. It's a clever game, particularly given the site's users' retail focus, but Pinterest probably should have disclosed the practice more openly.
Also: with a site full of people who are dedicating their time to posting links to retail sites, we're sure Pinterest is going to find a wealth of ways to make money.
How does Pinterest work?