How One Ship's Anchor Disrupted Internet Access in 6 Countries
In a reminder of just how fragile this web we've weaved across the globe is, a ship dropped anchor outside the Kenyan port of Mombasa and happened to hit a bundle of undersea fiber optic cables connecting east Africa to the Internet. Now, the BBC reports, six countries -- Kenya, Rwanda, Burundi, Tanzania, Ethiopia, and a piece of South Sudan -- are going to experience Internet slowdowns as less pipe is available to carry the same amount of traffic.
The slowdown, which could take two weeks to repair, could be particularly tough for Kenya's burgeoning tech scene, which locals felt was going to be at its strongest yet in 2012.
As much as Alaska Senator Ted Stevens was mocked for calling the Internet "a series of tubes," the Internet's physical manifestation looks a lot like (surprise!) a series of tubes.
It's difficult to find great photos or descriptions of laying undersea cable (i.e. tubes), but Alcatel-Lucent released a video of one of its ships being loaded up with cable to an epic soundtrack. The most mindblowing shot comes about 1:45 into the video in which we get to look at the GIGANTIC spool off which the cable is pulled. It's 20 feet tall and wound many feet deep.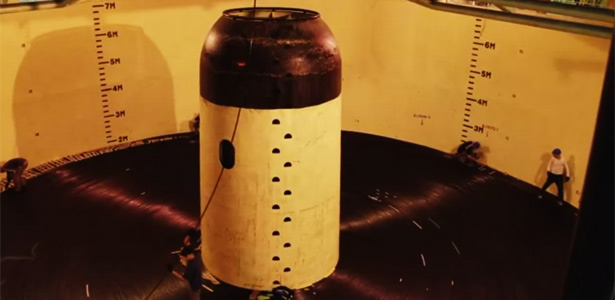 The art and science of laying underwater cable have been around since the days of the telegraph, when Americans tried desperately to connect themselves to Europe via an underwater link. Here's what the old apparatus used to look like.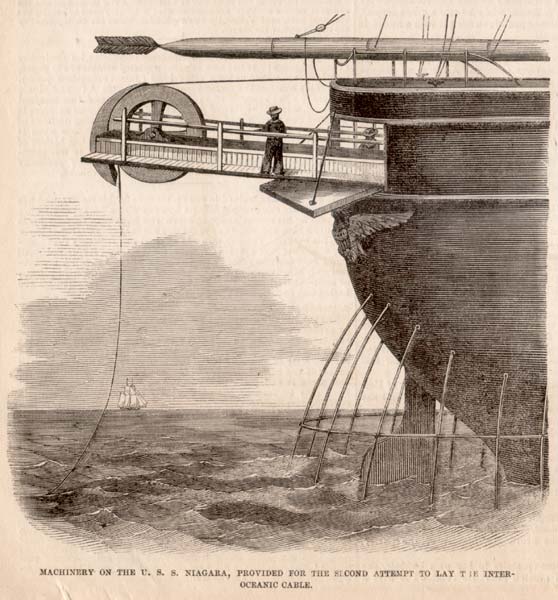 Since then, cables running under the ocean have been improved and better armored and -- like all cables -- made to carry far more data. The ships carrying them are much larger and carry a lot more cable. Nonetheless, as you can see in the video below,
some things haven't changed much in the century and a half we've been sending messages under the sea
. In essence, cable is fed onto a spool and dropped into the water. Nowadays, the
cables are buried under the ocean bed
. But still, everyone has to hope that nothing heavy enough to damage the cables falls into the depths. And these undersea cables are still one of the most vulnerable pieces of our information infrastructure, as millions of east Africans just found out.