Google Psyche: 'Why is the Super Bowl Called the Super Bowl?'
Great moments in Autocomplete, courtesy of Google search and collective consciousness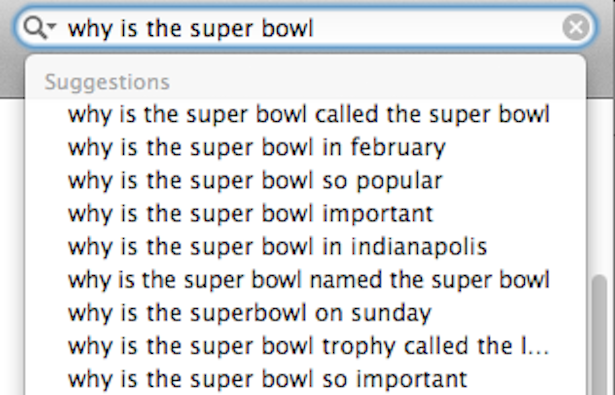 The main question on the minds of the Googlesphere as we approach Super Bowl weekend: Why is the Super Bowl, actually, called the Super Bowl?
An answer, via WikiAnswers, offers a possibly-apocryphal-but-still-entertaining-and-therefore-very-Internet-y bit of history:
The Super Bowl was created as part of the merger agreement in 1966 between the National Football League (NFL) and its competitive rival, the American Football League (AFL). One of the conditions of the AFL-NFL Merger was that the winners of each league's championship game would meet in a contest to determine the "world champion of football". Then NFL Commissioner Pete Rozelle wanted to call the game "The Big One".

During the discussions to iron out the details, AFL founder and Kansas City Chiefs owner Lamar Hunt is supposed to have jokingly referred to the proposed interleague championship as the "Super Bowl", a play on words from the new Wham-O Super Ball his daughter then liked to play with and college "bowl" games. Hunt apparently only meant his suggested name to be a stopgap until a better one could be found. Nevertheless, the name "Super Bowl" became permanent.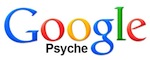 Google Psyche is an exploration of the stories that the world's Internet searches tell. The company's autocomplete algorithm predicts the word a random web searcher is most likely to type next, providing a statistical probe for our collective consciousness.