Giffords Shooting a Pivotal Moment for the Government's Social-Media Monitoring
The shooting of the Arizona congresswoman was the first time the Department of Homeland Security turned to social networks to gather information about an emerging crisis.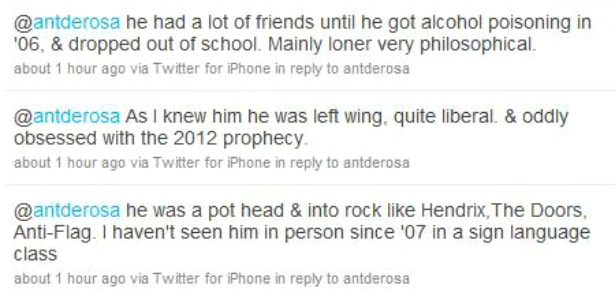 Hours after Jared Lee Loughner shot Rep. Gabrielle Giffords outside of a Safeway in Tucson, a collection of his online data was circulated by the Department of Homeland Security among various federal law enforcement agencies. According to DHS's Chief Privacy Officer Mary Ellen Callahan testifying before a Congress subcommittee this morning, the Giffords shooting was the first time DHS collected and disseminated personally identifiable social-media information to other federal agencies.
DHS, like other federal
law enforcement
and
intelligence gathering
agencies, has come to rely on social networks like Twitter and Facebook not just for external communications and outreach, but for situational awareness of natural or man-made disasters. But some in Congress are concerned about how that information will be handled and distributed -- and whether the practice of doing so will have a "chilling effect" on online speech.
Callahan said that information can only be collected and distributed by federal agencies if  a) you're a public figure or at the scene of an event or b) instance of life or death danger.
Rep. Patrick Meehan of Pennsylvania, the chairman of the Subcommittee on Counterterrorism and Intelligence, noted that social media's effectiveness during natural or man-made emergencies isn't enough to allay the public concerns that they aren't being constantly watched online. Online speech, while public, shouldn't be inadvertently discouraged. "Will people be less likely to post information? To comment on a blog?" asked Meehan. "We want to make sure that monitoring won't create a chilling effect on comments online."
Image: A former classmate of Jared Lee Loughner shares her experiences with Reuters' Anthony de Rosa on the day of Rep. Giffords' shooting/Twitter