Get It and Forget It: Smartphone Users' Fickle Taste for Their Apps
People with iPhones or Android phones may download a lot of apps, but they tend to use very few of them after a while.
People with iPhones or Android phones may download a lot of apps, but they tend to use very few of them after a while.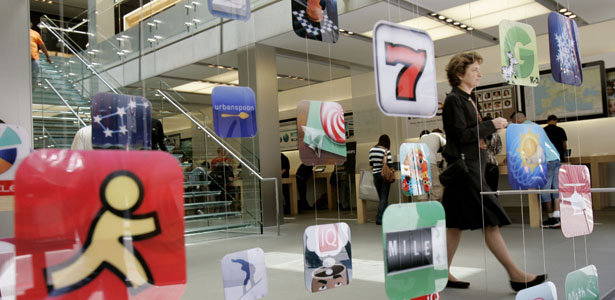 The lede of USA Today's business section one morning recently was startling: "Apps Rapidly Lose Their Appeal" was the headline over a story by Roger Yu. In the newspaper's characteristically brisk style, the story summarized an abundance of information:
Faster data networks and fancier phones have steered more Americans to embrace the apps software craze born of our fondness for the computer-in-my-pocket. But like other shopping experiences done impulsively, the appeal of instantly downloading the latest apps -- prompted by recommendations from neighbors, cousins, blogs and news stories -- loses its luster quickly, industry data show.
For American adults, mobile phones are nearly a universal part of daily life. A report last summer from the Pew Research Center's Internet and American Life Project found that 83 percent of adults have some kind of cell phone, and over a third of Americans now have smart phones. An overview of the study showed how important mobile technology has become -- 40 percent of those surveyed found cell phones were an important tool in an "emergency" situation (a car breakdown, for example). "Mobile phones have become a near-ubiquitous tool," Pew concluded.
Among smartphone owners, nine out of 10 say they use them for text messaging or picture taking. A chart in the New York Times recently reported that, overall, the top app category in 2011 was weather (it was an especially turbulent year) followed by navigation tools, finance, sports, games, Facebook, and Twitter. The pervasiveness of the phones and the significant increase in smartphone use leads logically to the belief that apps must be increasingly important also.
While true, that turns out to be more complicated than you might expect. Anindya Datta, founder of Mobilewalla, an app analytic firm, told USA Today that there are about one million apps available for the four most popular mobile operating systems -- Android, Apple, BlackBerry, and Microsoft -- but only 10 percent of them have been "discovered." Another Pew report showed that half of cell phone users have apps, but only 16 percent of U.S. adults have ever paid for an app, and among those that own apps, only half report using them on a weekly basis. Kristen Purcell, the Pew researcher responsible for the most recent comprehensive report on apps, found that the overwhelming majority of smartphone users open five or fewer apps once a week, and that the novelty of apps tends to wear off relatively quickly.
Nonetheless, the statistics on the spread of apps is impressive, and is now nearly double what it was in 2009. Pew's report showed that the most commonly used apps are for the features that attracted us to the World Wide Web, e-mail, and mobile phones in the first place -- getting news and other information and staying in touch. Purcell told philly.com that apps "are a significant departure from search engines and Web browsers, but the basic needs apps meet are not revolutionary. ... While mobile apps are a fairly new approach to accessing online content," she said, "the main functions they fill for users are the same we've seen with previous technologies--namely, information-gathering and communication. ... The takeaway is that there are a lot of apps out there; only a handful have sticking power."
Datta of Mobilewalla went further in his assessment of the tenuous nature of most apps: "We are constantly deleting them," he told USA Today, "that's why the number of downloads is a very poor measure of how popular an app is," saying that 80 to 90 percent of apps are eventually deleted. The point is that, while the apps culture is expanding, it remains a distinct category of smartphone usage and not yet the overwhelming factor in communications it is assumed to be. In the closing months of 2011, Apple sold 37 million iPhones and about 15 million Android devices were purchased, according to a post written by Lindsey Tugman. But having a phone with app capacity and using it for that purpose "are two very different things," Tugman wrote. "Less than half of that group [smartphone owners] say they use at least one app on a weekly basis. And that figure has declined over the past year despite the introduction of thousands upon thousands of new apps. It may be that smartphone users are more educated about what's available and know what they want help with."
The attraction and limitations of apps was underscored at the recent Digital Book World Conference in New York. A presenter from Forrester Research said that apps for book use are expensive to produce and have yet to demonstrate that they are a significant source of revenue. "The recipe for success is complex and elusive," was the consensus judgment. But that does not foreclose the possibilities of creating apps that break through to a widespread and lucrative place in the digital ecosystem. Monica Bannan of Nielsen, the media research firm, told USA Today that Android and iPhone users spend about 90 minutes a day on their phones, largely on apps. And the fact that consumers tend to be fickle is a factor in the lively development of new options. Of the top 50 apps, one out of five is new each month. The highest grossing individual apps in 2011 were Angry Birds and Smurfs Village, according to Apple. A random sample of friends, family, and colleagues turned up an eclectic app assortment, including Instapaper, for storing longer articles; Epicurious, for recipes; and Words with Friends, a Scrabble-like word game. Will these hold their place in 2012? Possibly, but the odds in the developing app culture favor new hits, so be on the lookout for them.
Image: Reuters.