Facebook IPO Shows (Once Again) Tech Companies' Crazy Value Per Worker
Today, after much anticipation, Facebook filed the paperwork for its initial public stock offering, expected to result in a market valuation somewhere between $75 billion and $100 billion. And while those numbers raise eyebrows for being big, another Facebook figure does for being so small: 3000. That's the number of employees the company has, according to press information on its website ("3000+" to be exact).
This makes Facebook far and away the smallest employer of the five top names in tech (Google, Amazon, Apple*, and Microsoft are the other four). Google, the next smallest, has 10 times as many employees, with just over 32,000.
But as much as Facebook stands out among the other big tech companies, as a group they all have very few employees relative to their market value when compared with other big American corporations. Other companies -- even those in finance -- employ more people for their size than do the big tech firms.
In the chart below, you can see the value of a company divided by the number of employees (for Facebook we are using the low-end estimate of $75 billion):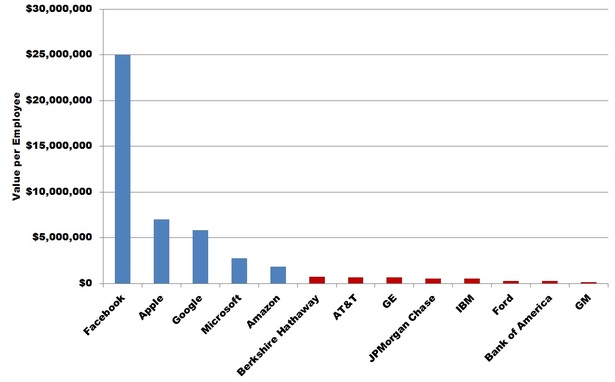 Or, for another way of seeing it, here's a graph showing number of employees on the vertical axis and market valuation along the bottom. Except for IBM, the big tech companies are all lying flat on the seafloor, employing very few people (relatively speaking) regardless of their size. Other companies employ more people than the tech five. For Google, Apple, Amazon, Microsoft, and now Facebook, the picture is quite different.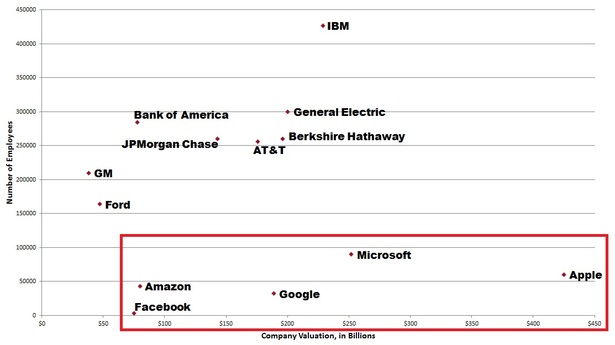 And it's not just that this particular breed of companies employs few workers: This breed of companies is an increasingly large sector of the economy. As my colleague Derek Thompson wrote last spring:
Fifty years ago, the four most valuable U.S. companies employed an average of 430,000 people with an average market cap of $180 billion. This year, the four largest U.S. companies employ an average 120,000 people with an average market cap of $334 billion. The titans of 2011 have twice the the value of their 1964 counterparts with a quarter of the employees.

One statistic is a snapshot of the economy, not a complete wall-to-wall portrait. But zooming out reveals a similar picture: America's largest companies are making much more money with much fewer workers. In the last two years, the Dow has recovered three-quarters of its losses while our employment ratio remains at an historic low. But the profit-hiring gap isn't a temporary side-effect of the post-recession economy. It's a function of the economy, period.
* Apple's 700,000 Chinese laborers are not employed by Apple directly but are contracted through Foxconn.
NOTE: All data comes from Google Finance except Facebook's which come from its own website and
New York Times
reporting.