Edison's Other Names for the Phonograph: Klangophone, Kosmophone, Didaskophone
Edison wasn't satisfied with his initial branding -- and came up with 50 alternatives -- but the name ended up sticking.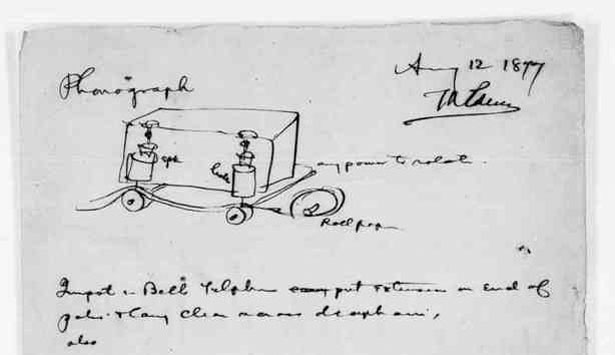 When Thomas Edison sketched out a machine that could record sound onto paper tape in August of 1877, he labeled it a "phonograph." But Edison was apparently dissatisfied by that name, because a note of his from November of that year lists about 50 alternatives, mostly derived from combinations of English, Greek, and Latin, perhaps believing that the older languages would confer a sort of scientific dignity to his very modern machine. On the list: hemerologophone ("speaking almanac"), bittakophone ("parrot speaker"), and kosmophone ("universal sounder"). But, in the end, phonograph stuck. Below, a copy of the list, preceded by a helpful transcription put together by Lists of Note.
T. A. Edison

Auto-Electrograph = Electric Pen
Tel-autograph
Tel-autophone
Polyphone = Manifold Sounder
Autophone = Self sounder
Kosmophone = Universal Sounder
Acoustophone = Sound hearer = Audible speaker
Octophone = Ear-sounder = speaker
Anitphone = Back-talker
Liguphone = Clear speaker
Minuttophone = Minute-sounder
Meistophone = Smallest sounder
Anchiphone = Near sounder or speaker
Palmatophone = Vibration sounder
Chronophone = Time-announcer = Speaking clock
Didaskophone = Teaching speaker, Portable teacher
Glottophone = Language sounder or speaker
Climatophone = Weather announcer
Atmophone = Fog sounder or Vapor-speaker
Palmophone = Pendulum sounder or Sounding pendulum
Pinakophone = Sound Register
Hemerologophone = Speaking almanac
Kalendophone = Speaking Calendar
Sphygmophone = Pulse speaker
Halmophone = Heart-beat sounder
Seismophone = Earthquake sounder
Electrophone = Electric speaker
Brontophone = Thunder speaker
Klangophone = Bird-cry sounder
Surigmophone = Whistling sounder
Bremophone = Wind sounder
Bittakophone = Parrot speaker
Krogmophone = Croaking or Cawing sounder
Hulagmophone = Barking sounder
Trematophone = Sound borer
Telephemist telephemy telepheme
Electrophemist electrophemy electropheme
Phemegraph = speech writer
Omphegraph -gram = voice writer or researcher
Melodograph Melograph Melpograph -gram = song writer
Epograph = speech writer, lecture or sermon
Rhetograph = speech writer
Kinemograph = motion writer
Atmophone = vapor or steam sound
Aerophone = air sound
Symphraxometer = pressure measurer
Synothemeter = pressure measurer
Orcheograph = vibration record
Orcheometer

Via Letters of Note.
Images: The Thomas Edison Papers at Rutgers University.