Bomb-Proof, LCD-Equipped Trash Bins to Hit London's Streets
The humble receptacle gets an upgrade.
The humble receptacle gets an upgrade.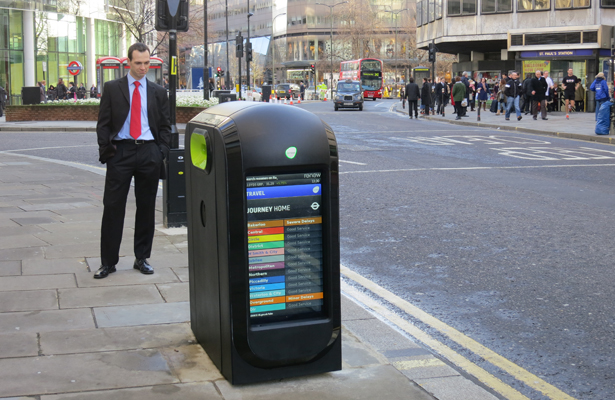 A trash bin has got to be just about the simplest creation around: a box with a hole in it. But could it be more? Is this a prime opportunity for innovation?
A company called Renew thinks so, and they have just won a 21-year contract with the City of London to install their new-and-improved recycling bins across the city. One hundred will be in place by this summer's Olympics. The new bins are made of a material that is four times stronger than steel and feature an LCD panel which can display market information, emergency alerts, and, of course, advertisements. Each bin costs 25,000 pounds.
London authorities have long been hesitant to place garbage bins in downtown London, out of concern that they are easy targets for bomb placement, Reuters reports. The new bins are built to withstand a blast, and to continue to broadcast emergency information if phone networks go down.
But the advertising space is the real heart of Renew's "innovation." According to Reuters, Renew pays for the bins and maintenance with revenues from selling the advertising space. The company says that advertisements on their displays will reach up to three million people daily during the summer Olympics.
Image: Renew.