Ever been followed by a fellow Twitter user named @YoulandaX3477, and wondered whether she's your friend Youlanda from third grade (hi, Youlanda!) ... or, just possibly, a bot? Have you ever wondered whether the people you meet on Twitter are actually, ultimately, people?
It can be, sometimes, alarmingly hard to tell.
There's a site that wants to help you with your Twitter-based Turing test needs. A journalism class at The New School in New York just launched Bot or Not, the culmination of a semester-long project exploring the path news articles take as they travel through Twitter.
The class explains the methodology that led to the bot-detector:
In order to determine the botfestation of the web, we focused on three popular tech media sites: Mashable, Read Write Web, and TechCrunch. Once a story was published by one of these sites, we tracked the number of times people shared it on Twitter within the first two and half hours after being published.

We tracked 159 stories, which together were tweeted over 79,000 times by more than 18,000 distinct twitter users. We then built a multi-stage test to determine whether a user is a bot, or not. Next, we applied the test to our data to find the percentage of users that are bots.

To create the test, we gathered various criteria that demonstrated either very human or very bot-like behavior on a high-low scale. Tweeting only links to Mashable stories, for instance, is considered very bot-like behavior.
The "being a bot" criteria the students identified are instructive, actually, for humans who want to use Twitter to converse with fellow humans. In order to avoid self-botification, it seems, it's good practice to retweet other users. And to use dot @-replies (which, the project notes, only humans do). And to reply to fellow users. And to use hashtags. And to follow a psychologically feasible number of fellow users.
If you don't do those things -- in other words, if you use Twitter to broadcast news rather than conversing about it -- then you could be a bot. (No offense.)
Here, for example, is how Mashable's Twitter feed -- which, despite the Pete Cashmore avatar, is automated -- stacks up: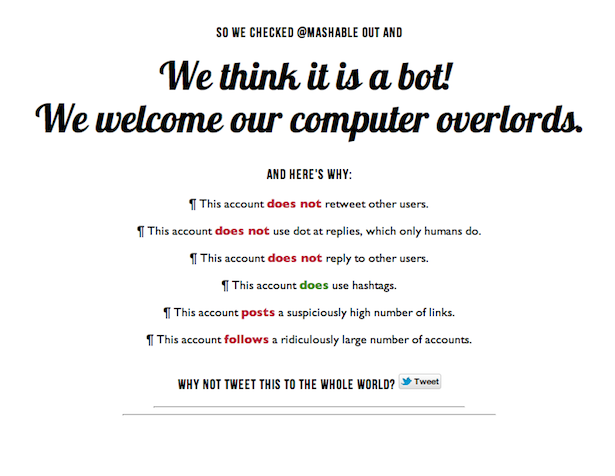 And here's how a (reported) human compares: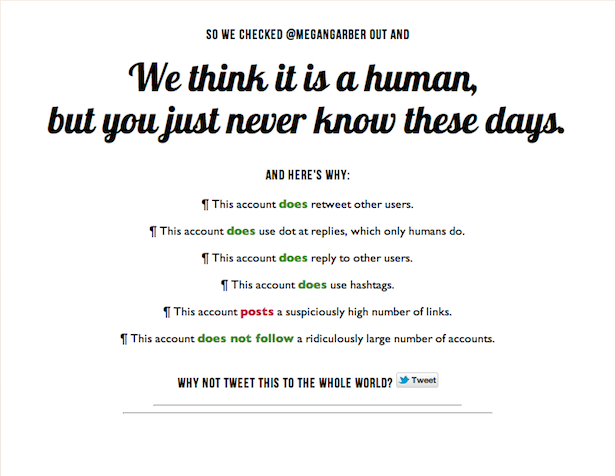 Whew! (Though, it's true: "You just never know these days.")
And, finally, here's Bot or Not's read on the link-friendly feed that is 
@TheAtlanticTech
: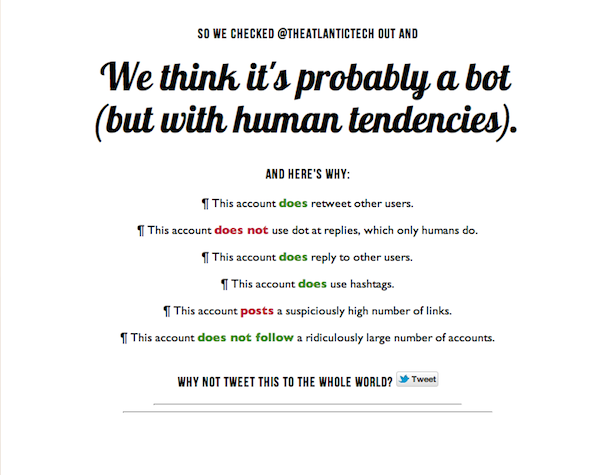 Cyborg! We'll take it.
Image: Bot or Not.