Apple's share of the global market in mobile phones -- not just smart phones, but all mobile phones -- has expanded from 3 percent in 2010 to just under 9 percent today. That doesn't quite sound like the dominance you'd expect from the world's most profitable technology company. But then you look at the profit pie, and boom: Apple devours three out of every four dollars of mobile phone profit in the world. From a new quarterly report by Asymco's Horace Dediu (via Fortune):

Here's another way to tell that story, from the perspective of Apple, rather than the mobile phone market:
In January 2006, the iPhone didn't exist. Five years later, iPhones accounted for more than half of the company's
$46 billion
in revenue and $13 billion in profit over the last 14 weeks of 2011. Here's that graph from
Business Insider
: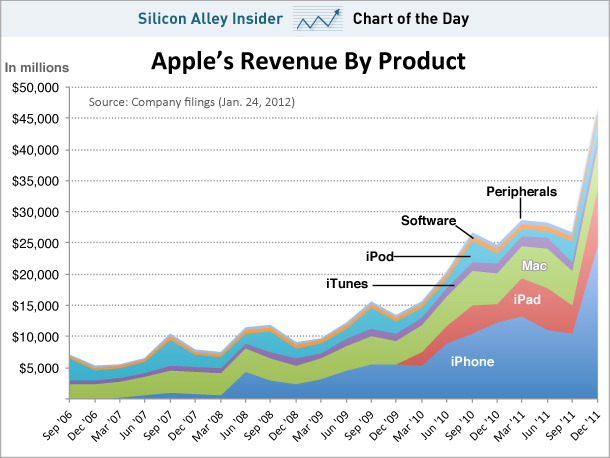 We want to hear what you think about this article. Submit a letter to the editor or write to letters@theatlantic.com.
Derek Thompson
is a staff writer at
The Atlantic,
where he writes about economics, technology, and the media. He is the author of
Hit Makers
and the host of the podcast
Crazy/Genius
.