11 Million Slices: Inside Domino's Super Bowl Pizza War Room
Sunday is the biggest day of the year for your team.You drink lots of water and try to mentally prepare yourself for the huge weekend ahead. It's going to be hard, but you've been preparing for this moment since the season began.
You are an information technology specialist at Domino's Pizza, and 30 percent of the 11 million slices of pie your company will sell on Super Bowl Sunday will be ordered online. This is your war room:
The funny thing is that this story is true. Super Bowl Sunday is Domino's biggest day of the year. The Super Bowl is for pizza joints what Valentine's Day is for florists.
Perhaps the best part of this story is the straight-faced tone that Phil Lozen, Domino's Pizza social media specialist, managed to maintain via email while developing a long football metaphor about the IT of pizza:
Our preparation begins well before kickoff - and even before the season begins - in July or August. It culminates in more than 55 members of our Information Systems (IS) "defense" camping out at headquarters to watch and anticipate every move the system makes to ensure flawless execution... Why over 55 people in one room? Each person has an expertise in a different facet of the system:

* Application owners check the initial code of our applications, making up our defensive line.
* Those watching our operating systems are our second line of defense, or "line backers"... who react to every situation on the "field."
* Those observing the network will jump in and "cover" if anything looks dicey on a larger scale, serving as our "cornerbacks."
* In case someone tries a "Hail Mary" play to hack into part of our system, we have our Security team there as our "safeties" - our last line of defense!

Good luck, team! Win one for Herman Cain!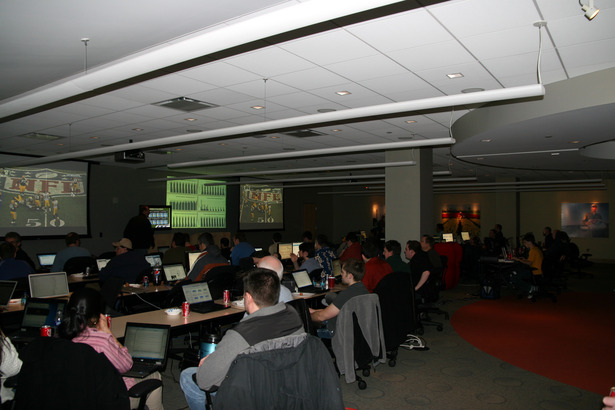 Images: Domino's Pizza.