The SOPA/PIPA Protests: Who Cared Most?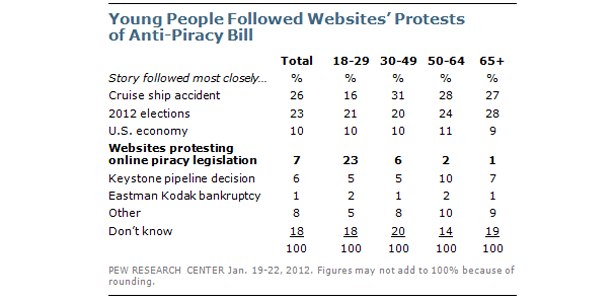 What was the biggest news story last week? For the population overall, the answer is the crash of the Costa Concordia, which 26 percent of Americans followed more than any other story, according to a Pew survey. Close behind was the 2012 elections. In third place, economic news. And then, at the fourth spot on the list, the anti-censorship protests that ripped across the Internet, including major sites such as Wikipedia and Google. Just seven percent of Americans said they followed that story the closest.
But if you break down the data by age group, you'll see that one of these groups is not like the others. For Americans 30 and older, the cruise ship accident, the elections, and the economy were all more salient than the SOPA/PIPA protests. But for Americans in the 18-to-29 age group, the protests were at the very top, with 23 percent of that sub-population tracking that as their top story. For them, the elections took the second spot and the cruise ship disaster was third.
It's not so surprising that, of the different age groups, the 18-to-29-year-olds were the most interested in the Internet story, given that the greatest proportion of them are online (see chart below). What is surprising is how few of the 30-to-49-year-olds made the story their top interest. They are online in nearly as great a percentage as their slightly younger peers, yet just six percent said they followed that story the closest. The cruise-ship disaster, on the other hand, piqued their interest, with nearly a third paying careful attention to the ins and outs of a giant ship beached off the Italian coast.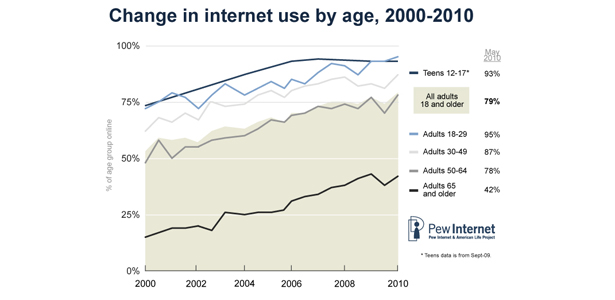 Images: 1. Pew Research Center for People and the Press; 2. Pew Internet and American Life Project.