'Technology' and 'Innovation' in the SOTU: A Retrospective
Technology and innovation were big themes of last night's State of the Union address. But they aren't always featured so prominently. Technological development wrestles with approximately one million other policy priorities for a precious spot in the speeches' text. And that can be a good thing: Since the addresses (Clintonian epics notwithstanding) are so limited in scope and length -- zero-sum games that reveal as much as they obscure -- they're also pretty decent indicators of an administration's priorities at the moment the text is delivered.
So it's interesting to look at technology and innovation as they've appeared in previous SOTU speeches. Looking through the archived texts of last night's and past addresses, and noting the occurrences of the terms "technology" and "innovation," offers a broad sense of the weight that the speeches -- and presidents Bush and Obama along with them -- have given to the country's technological development.
The results:

Charted, they look like this: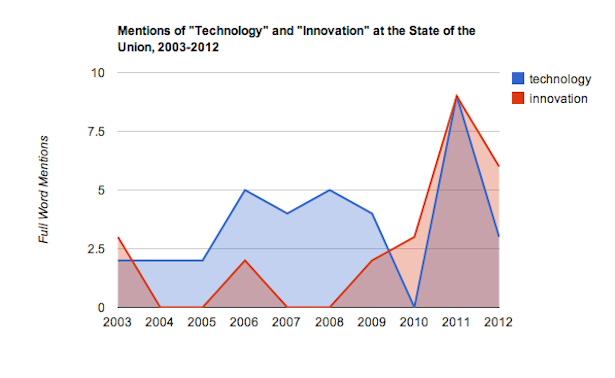 Last year's spike was the result of the fact that innovation itself -- in biomedical research, in clean energy, in information technology -- was a primary theme of the State of the Union as a whole. ("This is our generation's Sputnik moment," Obama declared.) Which makes this year's numbers, in the context of a speech that's not self-consciously tech-focused, pretty impressive.