A trip to the history of my hometown reminds me that we embed memories in objects, whether we want to or not.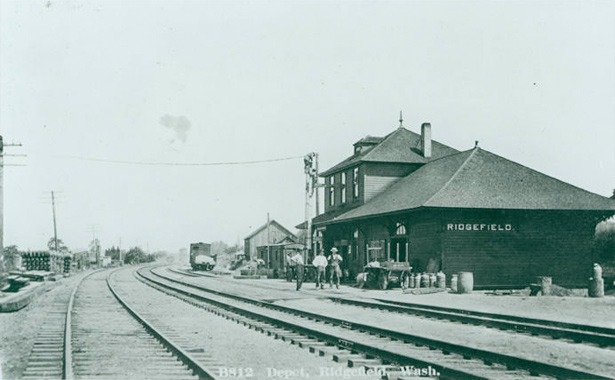 After stints in Mexico City and Los Angeles, I spent the rest of my childhood in rural Washington State, north of Portland, Oregon. My hometown is called Ridgefield and last year, some local historians going by the name of the Ridgefield Heritage Committee self-published
a book of old-timers' memories
of the place.
Before Ridgefield became an exurb of Portland, it was a farming and mill community that pumped out wood products, prunes, and potatoes. (Our high school mascot remains the Spudder.) It could be tough out in Ridgefield, which was far from anywhere. Technologies that were commonplace in the rich areas of the east at the turn of the century took a long time to diffuse out to our area.
One resident, Harold William Bochart, remembered getting electricity "in 1927 or 1928," and he could still recall the family's first radio. He went to school a mile from where I grew up, on the future site of Interstate 5, which he watched the crews grade and build.
In the early 1950s, Bochart and his wife built their home with their hands, and lived, in part, off the land. "Sadie and I got a cross-cut saw and cut down the trees, had them hauled up to the sawmill at the Ridgefield Junction and sawed into lumber," he said. "We built our home, board by board, room by room. We moved into one room on our first wedding anniversary. We raised a garden and canned everything we could."
Bochart's life went well, but it's no surprise that he doesn't yearn for the days of yore. "We enjoy the quiet life here," he said. "We certainly don't miss the hard life we had growing up."
Technology made a lot of things easier for the farmers and others who live in Ridgefield. But it can't make everything better. Perhaps the heaviest memory in the book comes in the form of a story from Lorene Kampe that's nominally about telephone lines.
"Phone service was poor too. Even up to the year when I graduated from Ridgefield High School, it was difficult to hear clearly from Ridgefield to Vancouver," she said. "I remember that because the telephone operator at the local switch-board had to relay the message of the drowning of my 15 year old brother Bob."
That sad story crackled over 10 miles of copper wire to Kampe and her family, then made its way into a self-published book 75 years later and now onto the Internet. Some things endure the changeovers of technology in all their specificity, even moments we wish had never come.


Image: Clark County Historical Society.